Press Release – Thursday, May 11, 2023
Munich/Pforzheim, May 11, 2023 – The path to a new energy age: Batteries and energy storage systems are indispensable for a reliable energy supply from renewable sources. Storing energy will become increasingly important for consumers – as is demonstrated by the finalists of the ees AWARD 2023. This year, the panel of judges has nominated pioneering products and solutions, most of which are from the field of residential storage systems. But systems that extend the service life of large-scale storage systems have also been shortlisted for the renowned industry prize. The winners will be honored on June 13 at the International Congress Center München (ICM) on the eve of The smarter E Europe with its four exhibitions – Intersolar Europe, ees Europe, Power2Drive Europe and EM-Power Europe, taking place from June 14–16 at Messe München.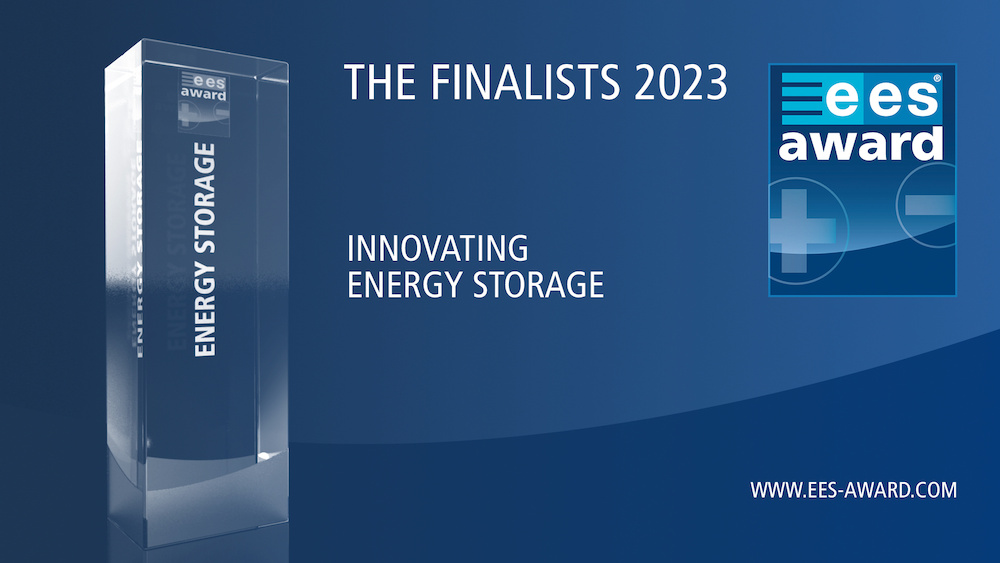 Energy storage is one of the main pillars of the energy transition – and its significance keeps rising. Europe's largest and most international exhibition, ees Europe, is a case in point: Having grown by 100 percent compared with the previous year, the exhibition provides the industry with solutions for the challenges of our time. These include, first and foremost, the 24/7 energy supply from renewable sources, for which storage systems are indispensable. The storage industry's innovation prize, the ees AWARD, puts companies and their pioneering solutions in the spotlight. The award will be presented in room 1 at the International Congress Center München (ICM) on June 13, 2023 at 6 pm, along with the Intersolar AWARD and The smarter E AWARD. 2023 will also see the launch of the Power2Drive AWARD and the EM-Power AWARD. The awards honor the innovative products and projects of future-oriented companies that play a key part in the new energy world.
Mobile storage devices, durability and second life
The submissions for the 2023 ees AWARD clearly demonstrate that energy storage is becoming increasingly popular among consumers. Many manufacturers dedicate themselves to residential storage systems, with new players joining established companies with new products in the market. Compact mobile storage devices with inverters, which can be used as off-grid system in connection with PV balcony installations as well as on-grid, are particularly on the rise. When it comes to cell chemistry, there is a trend towards lithium iron phosphate cells.
Modifications and further developments of large-scale and residential storage systems, such as compression pads for pouch cells or defect and fire detection, have made them more stable, durable and safer. New transportation technologies and smart installation solutions are reducing the costs.
When it comes to industrial storage systems, several manufacturers specialize in second-life components for storage systems and vehicle system analysis.
The finalists of the ees AWARD 2023
CATL (China): EnerC, a Containerized Liquid-cooling BESS
The liquid-cooled storage device EnerC by CATL is a highly integrated storage solution. The cell-to-pack solution (CTP) combines a liquid-cooled battery system with a maximum temperature difference of five degrees Celsius between the cells, an uninterruptible power supply system (UPS), a fire suppression system and a controller in one container. The CTP uses battery cells based on lithium-iron-phosphate, which are considered very safe and are designed for a service life of 12,000 charge cycles.
Dukosi (UK): Dukosi Cell Monitoring Solution
Lithium-ion systems require extensive wiring to enable cell monitoring. This is where the DK8102 Cell Monitor comes in. The built-in chip solution measures cell voltage and temperature, and transfers the data to the DK8202 System Hub via a contactless near-field communication (NFC) antenna. This enables the synchronous measurement of all cell voltages and temperatures with minimal effort. The DK8102 Cell Monitor can be used for all cell types. Its chip is used to perform cell balancing.
EcoFlow (China): EcoFlow PowerStream
The EcoFlow PowerStream is a balcony solar system that can be integrated with an EcoFlow power station. The micro-inverter is connected to the PV modules, the power station and a domestic socket. Using the EcoFlow App, users can control the micro-inverter's feed-in performance. Excess power is temporarily stored in the EcoFlow power station to be used later. Smart plugs with consumption measurement are also an option. They provide the data needed for balancing a refrigerator's real-time consumption with the feed-in performance, for example. The EcoFlow system can be easily installed by consumers and reduces the feed-in of excess electricity.
Elestor (Netherlands): LDES Hydrogen Bromine Flow Battery
The hydrogen bromine flow battery uses bromine and hydrogen to store electricity in the megawatt-hour range. According to Elestor, the system's storage costs (LCOS) are two to three times lower than those of lithium-ion storage devices and significantly lower than those of vanadium flow batteries. Bromine can be extracted from sea water in an environment-friendly way and is not subject to any geographical or political dependencies. The advantage of flow batteries is that their storage capacity and storage performance can be scaled separately. The specified AC-to-AC round-trip efficiency is 70 to 75 percent. Integrating the system into an existing hydrogen infrastructure even eliminates the need for a separate hydrogen tank
FENECON (Germany): FENECON Industrial L
FENECON's Industrial L uses excess or second-life vehicle batteries. They can easily be integrated into the cooling circuit. The system is suitable for outdoor use and provides 736 kilowatts (kW) and 1,288 kilowatt hours (kWh). The use of eight separate 92 kW KACO battery inverters creates a high redundancy. All components can be easily replaced and – unlike with container solutions – the system does not require a crane for set-up. If the full storage capacity is not needed, only some of the inverters will run, which is more efficient than one large inverter that may be less efficient at partial load.
HUAWEI (China): HUAWEI FusionSolar Residential Smart String ESS LUNA2000-7/14/21-S1
The HUAWEI FusionSolar Residential Smart String ESS LUNA-2000-7/14/21-S1 is a modular residential storage system for outdoor use with IP66 rating. The system is available with a capacity of 7, 14 or 21 kWh. Up to four systems with a total maximum capacity of 84 kWh can be connected in parallel. The 280 ampere hour battery cells based on lithium-iron-phosphate boast an impressive 100 percent depth of discharge, and the entire system is designed for a service life of 15 years.
LG Energy Solution (South Korea): S-Frame Pack
The storage module S-Frame Pack by LG Energy Solution comes in a rack design for modular energy storage systems with an energy content of 17 kWh. It is based on the JH4 battery cell. Metal clips and compression pads ensure consistent pressure on the cells, even when gas forms. The spacing between the module components allows for effective cooling, while flammable gases can be vented through pipes, which blocks propagation within the system during thermal runaway. Employing an air cooler reduced the cooling energy by 93 percent compared to the previous model.
SUNGROW POWER SUPPLY (China): Sungrow PowerStack ST500CP Liquid Cooling Energy Storage System
This compact commercial and industrial storage device has an output of 250 kW and is available with capacities between 537 kWh and 1,146 kWh. The liquid cooling concept reduces the temperature management energy demand by 30 percent. Sungrow was able to reduce the temperature difference between the individual cells to less than 2.5°C, resulting in more consistent cell aging and extending the battery modules' service life by two years. According to Sungrow, the high level of pre-fabrication and the option to run the cables aboveground reduce the installation time by around 60 percent.
TrinaStorage (China): TrinaStorage Elementa
This liquid cooled storage system based on LiFePO4 cells achieves more than 12,000 charge cycles. It has a nominal storage capacity of around 2,200 kWh and is intended for storage applications with charge and discharge rates of between 0.25 and 1 C. The modular design and "above ground" busbar technology reduces the installation time to about 30 percent. Elementa's built-in smoke, gas and temperature sensors detect critical situations early on, while its active ventilation and the integrated fire suppression system ensure a high level of safety.
TWAICE Technologies (Germany): TWAICE ESS Battery In-Life Analytics Software
TWAICE's software solution Battery Analytics offers an extensive data analysis of storage systems using AI and digital twins. Starting during installation, predictive analysis monitors strings and detects faulty cells and modules at this early stage. During operation, aging analysis detects defects, drastically reducing the total cost of ownership.
Further information on the awards can be found at:
www.TheSmarterE-award.com
www.intersolar-award.com
www.ees-award.com
www.powertodrive-award.com
www.em-power-award.com