The smarter E Europe, Europe's largest alliance of exhibitions for the energy industry, takes place from June 19–21, 2024. It brings together the four exhibitions Intersolar, ees, Power2Driveand EM-Power Europe with 115,000+ (expected) visitors, as well as four conferences with 2,200 attendees, which take place from June 18–19, 2024.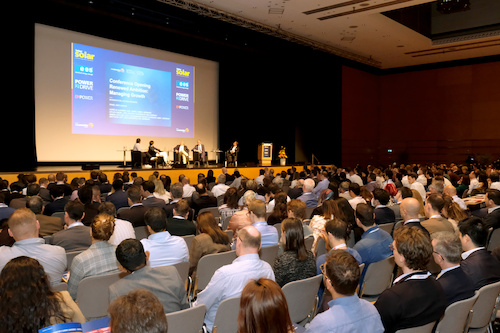 Do you have new research results or innovative projects that you would like to present to a professional audience? Then help shape the program of the conferences and the Green Hydrogen Forum and submit your abstract.
Intersolar Europe Conference: European markets, solar manufacturing in Europe, agri PV, floating PV, clean solar supply chain, sustainable solar, utility-scale PV, residential buildings & solar prosumers, commercial & industrial solar applications, solar technology, hybrid PV power plants, financing solar growth, power purchase agreements in Europe, off-grid: Decentral water-energy-food nexus, digitalization, storage systems, best practices
ees Europe Conference: BESS supply chain, EMR & more, long-duration energy storage, clean batteries – EU battery regulation 2023, innovations in battery technology, use cases: new challenges and opportunities, Europe's hottest energy markets, outstanding energy storage projects in Europe, offtake and asset optimization
Power2Drive Europe Conference: international EV and charging market outlook, trends of charging infrastructure, vehicle-to-X and grid congestions, EV battery development, subsidies, regulations, and programs, sustainability in e-mobility
EM-Power Europe Conference: grid integrated solutions, e-mobility power system integration, flexible grid and innovative grid management, how to enable consumer engagement, decentralized collective consumer engagement schemes, digitalization, data and information exchange
Green Hydrogen Forum (exhibition ground): part systems (electrolyser, fuel cells, H2-processing, -storage, -transport; interfaces to harness renewables and from water purification to grid-ready electricity), small, medium & large scale total solutions (for transport, buildings, industry, communities, regions incl. planning, fabrication, stable supply chains, handover, operation, surveillance), green hydrogen solutions (certification, insurability, bankability, pay-back, commercialization, disposal), scale-up, trends & markets (for power-to-X, -mobility or -heat; fuels: H2, NH3, syngas, CO2), others: roadmaps, partnerships, applications & projects, training & expert networks
Presentations at the conferences and the Green Hydrogen Forum are held in English. Please find further details on topics and the submission process in the Call for Abstracts Center.