Press Release – Tuesday, May 10, 2022
Munich/Pforzheim, May 10, 2022. The EnerOne battery storage system, the STABL SI 100 modular multi-level converter and the Voltfang Industrial commercial storage system made from second-life car batteries are all examples of innovative products within the storage industry. This fact has been recognized by the ees AWARD 2022. The manufacturers Contemporary Amperex Technology Limited (CATL), STABL Energy and Voltfang are the proud winners of the prize for innovation. The ees AWARD was presented at a ceremony on May 10, 2022 along with two other prizes for innovation, The smarter E AWARD and the Intersolar AWARD. The awards honor the innovative products and projects of future-oriented companies that play a key role in the success of the new energy world. The winners and finalists will be showcasing their innovations at The smarter Europe 2022 at Messe München from May 11 to 13.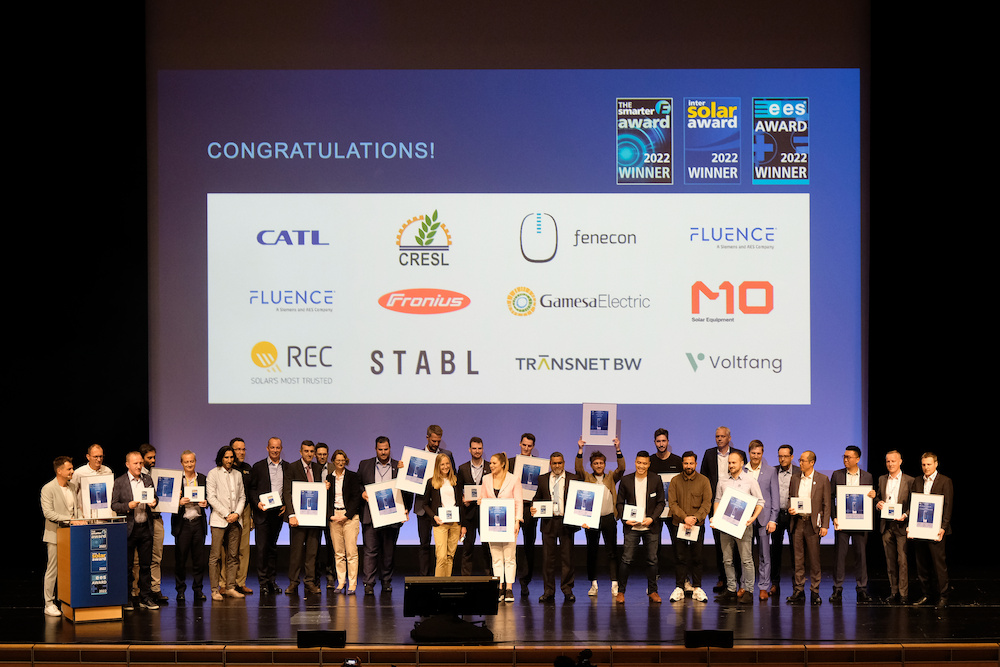 An international panel of experts has judged the nominees for the ees AWARD 2022 and picked out pioneering solutions as worthy winners of the innovation prize for the storage industry – the ees AWARD. The winners were announced and their achievements celebrated at an award ceremony with an international audience at the Internationales Congress Center München (ICM) on May 10, 2022 as part of The smarter E Europe. Batteries and energy storage systems are key components of the future energy world. There is huge potential for optimization in particular when it comes to installation, battery sustainability and temperature management – as demonstrated by the finalists and winners of this year's ees AWARD. Anyone wanting to meet the award winners and finalists in person will be able to do so at the ees Europe 2022 at Messe München on May 11 to 13.
The winners of the ees AWARD 2022
Contemporary Amperex Technology Co., Limited (China): EnerOne
Contemporary Amperex Technology Limited (CATL) based in Fujian in China has been providing innovative energy technologies, solutions and services since 2011. EnerOne is a battery storage system with liquid cooling for outdoor usage. Based on lithium-iron-phosphate cells, it has a nominal capacity of 372.7 kilowatt hours with a surface area of just 1.69 square meters. The cells with a capacity of 280 ampere hours have a discharge rating of 1C and guaranteed life span of up to 10,000 cycles. The system is suitable for inverters in the range between 600 and 1500 volts. With the main components covered by protection class IP66, it can be used at ambient temperatures of between -30 and +55 degrees Celsius, allowing the flexibility for outdoor applications. EnerOne has passed critical cell, module and rack tests, including fire propagation tests at the rack level without the need for any intervention with a fire extinguishing system.
The panel of judges was impressed by the highly sophisticated, mature and fully integrated system that opens up the option of installations in regions with extreme climate conditions. They also praised the potential to lower costs through integration into CATL's wider value chain.
STABL Energy GmbH (Germany): STABL SI 100
Founded in 2019 in Munich, STABL Energy develops power electronics for battery storage systems. Its SI 100 modular multi-level converter for battery storage systems replaces standard battery inverters. The usual process of switching to generate alternating voltage for the grid via a separate inverter is no longer relied upon. Instead, the STABL inverter switches battery modules on and off in dynamic succession to increase and decrease the output voltage in a stepped manner, ensuring that all battery modules are charged and discharged evenly. With lower switching voltages and frequencies, the conversion efficiency is higher than with conventional battery inverters, with a maximum of 99.4 percent being reached. The concept allows for battery modules to be integrated in different states, which is an advantage for second-life applications in particular.
The panel of judges was impressed by the high conversion efficiency, the possibility of using different battery modules within one system, and the overall pioneering spirit at the heart of this creative technology.
Voltfang GmbH (Germany): Voltfang Industrial
Voltfang, a start-up founded in Aachen in 2020, develops stationary battery storage systems using used car batteries. Voltfang Industrial is a commercial storage system based solely on used lithium-ion batteries from electric vehicles. The system is compatible with battery modules of different types, sizes and voltage ranges. The proprietary master battery management system (BMS) can communicate with and continue to use the module BMS. With an output ideal for storage applications to the increase self-consumption of PV plants, peak load reduction is another potential market. Extending the remaining life span of electric vehicle batteries in stationary applications significantly reduces carbon dioxide emissions.
The panel of judges rewarded the strategic concept that covers all relevant stages of the value chain for second-life systems, including a testing procedure for determining battery quality and safety. They were also impressed by the sophisticated technology and the fact that second-life batteries from a range of car manufacturers could be integrated into the system. According to Voltfang, the life span of electric vehicle batteries can be extended by somewhere between 8 and 15 years this way.
Further information on the awards can be found at:
www.TheSmarterE-award.com
www.intersolar-award.com
www.ees-award.com