Of course, nothing beats the atmosphere of an on-site event, but even if you cannot make it to Munich in person to visit The smarter E Europe from October 6–8, we've got you covered.
The smarter E Expo TV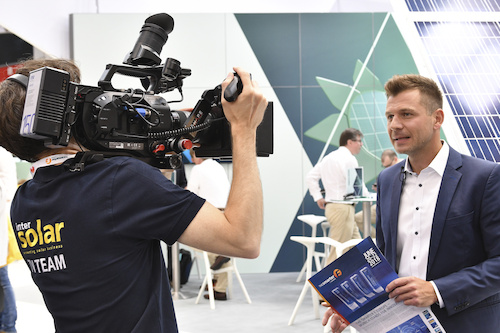 The smarter E Expo TV offers an exciting program live from the exhibition floor, and features industry highlights for viewers around the world.
Join us for interviews and discussions with industry representatives and associations, enjoy live footage from the exhibition, and watch special program highlights from the exhibition forums.
Make sure to save this page to your favorites now and come back soon for more information about the program, and to access the Expo TV stream.
Program
Wednesday, October 6
11 am: Reducing Emissions and Closing the Electricity Gap: A Growing Global Market and Its Chances to Mitigate Climate Change
2 pm: Sector Coupling: Connecting Ideas, Unleashing Growth Potentials
4 pm: Vehicle-to-Grid: Innovations to disrupt the Energy and Transportation Sector
5 pm: Green Hydrogen Forum: Green Hydrogen Ready to Take-off
Thursday, October 7
10 am: Storage Innovations as Gamechanger for the New Energy World
12 pm: Get More Out of Your Electricity: Digitalization and Smart Applications
2 pm: Best practices in industry and commerce: How to build climate neutral companies
4 pm: Deutschland nach der Bundestagswahl – Erwartungen der Branche (in German)
Friday, October 8
More Details available soon.