Free Webinar
Thursday, May 23, 2023 | 11:30am–12:30pm | Webinar Language: English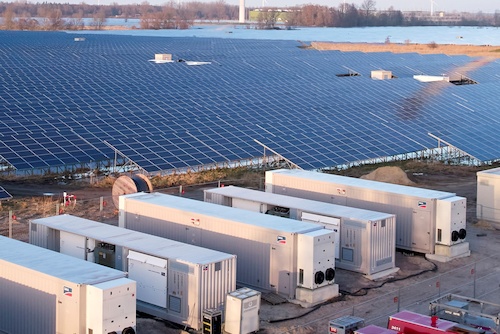 With the rapidly increasing number of fluctuating power generation plants (photovoltaic and wind), the need for storage in the grids is also increasing significantly. Internationally, as well as in some EU countries and also in Germany, the integration of battery storage in existing and especially in newly built PV parks is becoming increasingly important. The webinar provides an insight into the status of these PV battery power plants in Europe and highlights the following key topics in particular, which will also be published in the form of a short study afterwards:
Motivation: why are battery storage systems being integrated into PV power plants on the generation side?
Current status in Europe: Examples from three EU countries
Current trends: Overview of battery technologies, system concepts and forecast-based operation management
Potentials: Technical and financial added value through flexible operating modes
Our Guests
Dr. Matthias Vetter, Head of Department Electrical Energy Storage, Fraunhofer Institute for Solar Energy Systems ISE
Electrical Engineer, 25 years of experience at Fraunhofer Institute for SolarEnergy Systems ISE
PhD thesis in the field of modeling and development of control strategies forfuel cell systems
From 2005 to 2010 Head of Group "Off-Grid Power Supply"
From 2011 to 2016 Head of Department "PV Off-Grid Solutions and BatterySystem Technology"
Since 2017 Head of Department "Electrical Energy Storage" and Coordinatorof Business Unit "Electrical Energy Storage"
Coordinator for Stationary Battery Storage at Fraunhofer Institute for SolarEnergy Systems ISE
Contact Person for Battery Systems at Fraunhofer Battery Alliance
Spokesman of R&D Advisory Board of German Energy Storage SystemsAssociation (BVES)
Technical Advisor of Working Group "Stationary Applications andIntegration" of Batteries European Partnership Association / Batteries Europe
Member of Steering Committee of Batteries European Partnership Association/ Batteries Europe
Dr. Anna Heimsath, Head of Department Analysis of Modules and PV Power Plants, Fraunhofer Institute for Solar Energy Systems ISE
Anna Heimsath is head of the department "Analysis of Modules and PV Power Plants" at Fraunhofer ISE. In the department, more than 70 scientists, technicians and students conduct research on novel applications and improved operation of PV technologies. Anna Heimsath has been researching the further development of solar technologies for more than 15 years. She studied production engineering at the University of Bremen and later earned her doctorate in physics, supported by scholarships from the Heinrich Böll Foundation and the Fraunhofer TALENTA programme.
She leads the IEA PVPS Task 13 Subtask 2 performance and durability of PV applications, including activities on floating pv, agrivoltaics, bifacial tracker and digital power plants.
Moderator
Sabine Kloos, Project Manager ees Europe, Solar Promotion GmbH
Sabine Kloos is a graduate in environmental protection engineering and has been working for Solar Prmotion GmbH since 2006. Since 2011, she has increasingly specialized in the field of batteries and energy storage in connection with renewable energies and developed exhibition and conference events for these topics. From 2015, the topic of electromobility has also increasingly come into focus. Sabine Kloos is currently the project manager responsible for ees Europe, the largest exhibition for batteries and energy storage systems in Europe. ees Europe takes place annually as part of Europe's largest energy industry platform The smarter E Europe in Munich, Germany.
Sponsor
Media Partner