Trend Paper – January 17, 2023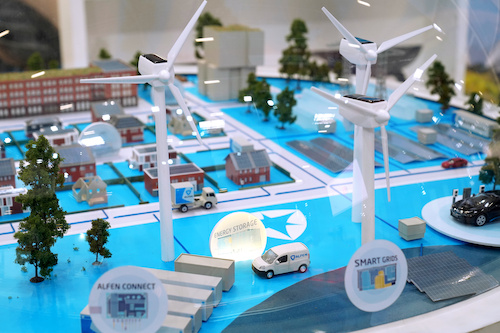 Only a few years ago, many considered municipal utility companies lame-duck organizations that lag behind the energy transition. This has completely changed: Many municipal utilities have become hotbeds of the new energy world and drivers of climate protection. They are developing new business models and are actively promoting the transition of the electricity, heating and transportation sectors. Their activities involve citizen participation, prosumer solutions, various forms of cooperation and technical innovation.
Stadtwerke Stuttgart will Generate 1.7 TWh of Green Electricity
Stadtwerke Stuttgart (SWS), that is playing a key role in reaching the climate targets of Baden-Württemberg's state capital, is one of the pioneers. Stuttgart has set itself the target to be climate-neutral by 2035. Over the next few years, the municipal company intends to invest around three billion euros into the electricity, heating and transportation transition. SWS is planning to produce its own green electricity with an output of around 1.7 terawatt hours per year by 2035.
Tenant Power, Lease Models and Renewable Power Plants
The green power is to come from wind farms and large-scale ground-mounted photovoltaic systems built by SWS. The utility company is already offering packages consisting of a PV installation and a battery storage system for homes or companies to buy or to rent. Since January 2022, SWS and the municipal housing company Stuttgarter Wohnungs- und Städtebaugesellschaft have been collaborating to install rooftop PV systems with a combined output of 25 megawatts to provide electricity for 9000 apartments.
Heat Transition and Transport Transition in Baden-Württemberg
Investments into the heat transition alone are expected to total 700 million euros by 2035. The utility is looking to tap into all available renewable sources of heat, including residual heat from wastewater, ambient and geothermal heat and possibly even heat from the river Neckar. Depending on the source, the recovered heat can be transferred via pipes or used within a property. To promote the transportation transition, SWS has been working on expanding the charging infrastructure. SWS's charging network is already the largest within Stuttgart. By 2035, the utility company is set to provide between 10,000 and 15,000 private and public charging points across the city. SWS also sells wallboxes for charging at home and offers a commercial e-scooter sharing scheme called Stella Sharing, with 200 electric scooters powered by SWS green electricity.
Stadtwerke München Promotes Citizen Participation
Munich's utility, Stadtwerke München (SWM), also has a range of services to aid the energy transition. The M-Solar Sonnenbausteine initiative is a citizen participation scheme using crowdfunding which aims to deploy more photovoltaics on roofs across the Bavarian capital. The installations are built and operated by SWM, and funded by citizens providing earmarked subordinated loans between 500 and 5,000 euros. Investors receive a fixed annual interest on these loans. And what's more, these private investors can buy the solar electricity for powering their homes. The scheme is listed in the Federal Environmental Agency's Registry of guarantees of regional origin.
Solar Systems get New Value
The SWM's customized M-Solar Plus package has been conceived for installations which were set up more than 20 years ago and therefore no longer receive any subsidies under the Renewable Energy Sources Act. It includes conversion to self-consumption with or without battery storage, or repowering, i.e. exchange for a new, more powerful, PV system.
Housing Companies as Partners
In September 2022, SWM and the municipal housing company GWG launched a tenant power campaign, whereby GWG provides SWM with suitable roof surfaces for PV. The plan is to install PV tenant power systems on all new GWG buildings and in refurbishments where possible.
Stadtwerke Münster Enables Participation
Other municipal utilities, such as that in the city of Münster, also believe in citizen participation schemes. Citizens can purchase shares in any of a number of wind energy and photovoltaics projects via a digital citizen participation platform. The cooperative Unsere Münster-Energie" (Our Münster Energy) was founded at the initiative of the municipal utility back in 2014 in order to allow citizens to buy shares in new wind energy projects. Citizens also had the opportunity to purchase profit participation rights in a large number of photovoltaic installations.
Stadtwerke Osterholz Support Project Planning and Installation
Another popular way to advance the energy transition locally are regional partnerships. At the beginning of November 2022, Osterholzer Stadtwerke in Lower Saxony took a 21.5 percent stake in a regional electrical installation company, which had been founded just three months previously. The aim is to be able to implement photovoltaics contracting projects more quickly. The same municipal utility partnered with a local project developer to set up a planning and construction company for larger photovoltaic and wind power plants. The company will also market the electricity produced.
Services also for E-mobility
In recent years, Osterholzer Stadtwerke has already greatly expanded its range of services by adding wallboxes and solar carport contracting, for instance. The municipal company switched all electricity tariffs to 100% green electricity back in 2017. So far, four citizen-owned solar power plants have been built.
Städtische Werke Kassel Cooperates with Start-up Company
Städtische Werke Kassel in the federal state of Hessen also uses various cooperation participation models, such as the recent collaboration with a specialized local start-up in the field of larger, more complex PV projects. Private individuals can invest in PV systems built by the municipal utility's customers via so-called Solar Teams. One of the first projects was a PV system on the roof of the town's streetcar depot with an output of 750 kilowatts, which mostly supplies the depot itself.
Artificial Intelligence for the Heat Transition: Stadtwerke Iserlohn
Innovative municipal utilities like the one in Iserlohn, North Rhine-Westphalia, have their sights firmly set on the heating transition. The municipal utility is working with an IT service provider to develop a software for optimizing the operation of district heating networks using artificial intelligence. Real-time monitoring and heating demand forecasting help reduce the network temperature and increase the share of climate-neutral heat generation.
Iserlohn Virtual Power Plant
"Grid Insight: Heat" is part of the Iserlohn virtual power plant project. Here, different technologies such as photovoltaics, wind and hydropower, combined heat and power plants, biomass, energy storage and electromobility are interconnected to create synergies. In its first year of operation, the project has already achieved significant savings of natural gas.
Power-to-Heat in Greifswald
Large solar thermal systems that feed into municipal heating networks are also on the rise, such as Germany's largest solar thermal plant to date – with an output of 11 megawatts – which was taken into operation by Stadtwerke Greifswald in September 2022. The integration with an innovative combined heat and power system with a 5 MW power-to-heat plant, a heat storage system, a large air-source heat pump and biomethane is expected to boost the share of renewable heat in Greifswald's district heating network to around 35 percent by 2024.
About the Trend Papers
Our trend papers provide you with a quick overview of background information and current developments in selected areas of the new energy world. Each trend paper is also available for download as a PDF version. The overview of all trend papers can be found on the website of The smarter E Europe.