High energy prices accelerate competiteveness of hydrogen in steel production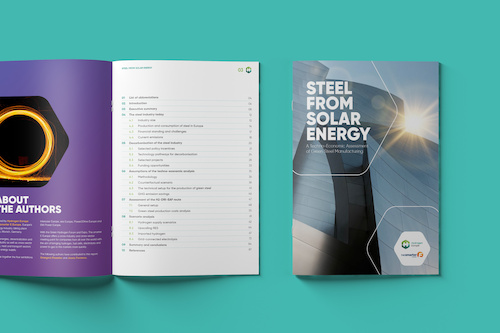 The political developments of recent months have demonstrated the need for a secure and independent energy supply for Europe. The success of the energy turnaround is linked not only to the increased expansion of renewable energies but also to the accelerated introduction of a green hydrogen economy.
For the second year in a row, green hydrogen was one of the focus topics at Europe's largest energy industry platform, The smarter E Europe. A study on solar steel production will be presented at the Green Hydrogen Forum on May 11, 2022: Jorgo Chatzimarkakis, CEO of Hydrogen Europe, will announce the launch of the "Steel from Solar Energy" study.
The aim of the study is to show under which conditions it is possible to economically produce steel from iron ore using hydrogen from renewable energy sources. Specifically, the study provides evidence that steelmaking from iron ore with hydrogen produced from renewable energy is possible. The study also reveals the challenges that must be expected in the process.
The study is published by Hydrogen Europe and supported by The smarter E Europe.
To access the free 90-page study, please fill out the form below.
Step 1: Enter your data.
Step 2: Validate your email address via the link in the email we send you.
Step 3: After validating your email address you will immediately receive an email containing a link to the download.
If you do not receive an email right away, please also check your junk mail / spam folder. If you have any question, please contact us at marketing(at)solarpromotion.com.
Download Form