News – July 21, 2023
The smarter E Europe presented solutions for prosumer integration
Grid stability and the integration of prosumers into a holistic, carbon-neutral energy system were among the hot topics at EM-Power Europe 2023, as well as at the other three The smarter E Europe exhibitions. The AWARD Ceremony also reflected this. Meet some of the winners as well as some start-ups and their energy management systems, which are becoming increasingly important for prosumers.
There were loud bangs, gentle knocking, rustling and even belling: The sounds that Leonie Klein produced with her percussion instruments on the AWARD stage at The smarter E Europe and its four exhibitions were as varied and exciting as the products and projects honored at the ceremony at International Congress Center München ICM. The winners that evening had one thing in common: They are all aiming to improve our power grids – either directly or indirectly.
The eve of The smarter E Europe clearly showed where the industry is headed: The expansion of renewables is in full swing all around the world and the electrification of the heating and transport sector is gaining impetus, too. Now it's all about creating a balance between the volatile power generation from the wind and the sun and the growing demand. The answer lies in flexible, smart, cross-sector solutions.
Mind over matter at the EM-Power AWARD
One important aspect is the integration of electromobility into the distribution grids without overloading them. In Germany alone, the number of e-cars is expected to grow from just under one million in 2022 to 15 million by 2030. This kind of growth can only be accommodated with smart charge management. Munich-based The Mobility House has developed such a smart charge management system, and was honored with the first edition of the EM-Power AWARD on June 13.
The winning company's ChargePilot helps charging parks or commercial electric fleets to reduce peak loads. This makes charge and energy management systems an affordable alternative to expanding the grid infrastructure. Combining hardware and software, it can prioritize charging EVs with renewable energy and incorporate vehicle-to-grid functionality to help stabilize the local power grid.
Battery storage systems are also playing a growing role in the energy system, capping peak loads, improving system stability and reducing the costs of grid expansion. However, many useful applications for large-scale storage systems fail as the appropriate output and capacity for applications that are still in development cannot be planned in the long-term or due to the investment and decision structures of the industry and grid operators. FERESTO Rental Storage is FENECON's storage system solution that can simply be rented for the desired period of time with the appropriate output and capacity configuration. This innovative service earned FENECON an EM-Power AWARD.
The smarter E AWARD honors outstanding projects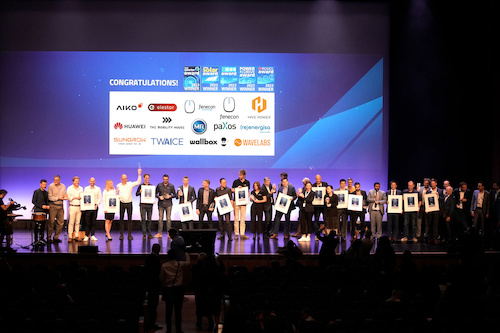 The winners in the Outstanding Projects category at The smarter E AWARD 2023 offer practical ways of stabilizing the grid using batteries. One of them is Maschinenfabrik Reinhausen with their project FlexNet-EkO – Flexibilisierung des Netzbetriebs durch entkoppelte Ortsnetze (flexibilization of grid operation with decoupled local grids) in the village Bobritzsch-Hilbbersdorf, southwest of Dresden.
Working with MITNETZ STROM and regional research teams, Maschinenfabrik Reinhausen demonstrated how grid operators can incorporate larger shares of renewable energy, stabilize voltage and frequency, and enhance overall grid function.
The system combines batteries with power electronic grid coupling and grid-stabilizing inverters to decouple and optimize low-voltage grids. This approach is cheaper and easier to deploy than network and transmission upgrades, accelerating the grid integration of solar, wind, and EVs.
Another The smarter E AWARD went to the Spanish company Wallbox, whose project at their headquarters in Barcelona shows how charge or energy management systems can contribute to reducing the need for grid expansion and to accelerating projects. The growth of the company's site meant that the grid-supplied electricity demand rose to 400 kW, but only 173 kW was available.
Instead of spending an entire year upgrading grid infrastructure, the company installed the SIRIUS energy management system. The system seamlessly integrates grid-supplied power with 400 kilowatts of solar PV and 560 kilowatt hours of on-site battery storage and a fleet of 23 Nissan Leaf electric vehicles capable of bi-directional charging. The different energy sources are coordinated in real time in order to optimize the building's energy consumption. In 2022, Wallbox was able to reduce its CO2 emissions by 73 metric tonnes and cut its energy bills by 85,000 € per year.
A suitable energy management system for everyone
A smart charge management system with vehicle-to-grid functionality was also able to win the Power2Drive AWARD. The Swiss company Hive Power with its FLEXO Smart Charge system took home one of the three Power2Drive trophies that were awarded that evening. The Software-as-a-Service platform uses cloud-based machine learning to aggregate electric vehicle fleets and connect them to energy markets, maximizing the profitability of the vehicle-to-grid business model and minimizing operating costs. The hardware-independent platform is also designed for dynamic, load-variable electricity tariffs so that the electricity demand can be adapted to the power generation. According to Hive Power, this can generate an additional income of 1,000 € per electric vehicle per year.
Hive Power's core application, FLEXO, is also used in other areas, such as the management and optimization of energy communities. The system manages the flexibility of decentralized systems such as photovoltaics, e-cars, heat pumps and battery storage systems. It collects and analyzes data from various sources, such as weather forecasts, load profiles and energy market data in order to reduce consumption peaks, to use as much self-generated electricity as possible or to provide important grid services.
Get involved
Hive Power's technology is part of a trend that many exhibitors at EM-Power Europe in Munich from June 14–16, 2023 were part of: the smart integration of prosumers into the energy system. Prosumers need to play an active part in the smart grid of the future by balancing out the demand and supply of electricity around the clock. This does not just mean postponing consumption, but also using power from decentralized production there and then. Many companies – from established players to small start-ups – showed solutions to this problem at EM-Power Europe.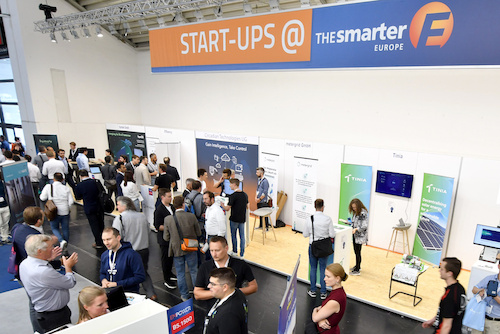 ©Solar Promotion
One of them is Ampigrid from Kassel, whose smart energy management system targets the increase of solar power self-consumption in the residential market. According to project manager Vadim Gorbatchev, at the heart of the system lies the communication between devices from different manufacturers via the AmpiBox – these devices can include PV inverters, heat pumps, EV-chargers or smart power sockets.
Future development steps will involve serving small networks, such as those of energy communities, and finally grid operators, helping them to avoid bottlenecks by controlling heat pumps in response to dynamic energy prices, for instance. "We are currently looking for business cases to expand our standard system to a variety of devices," Gorbatchev said. At EM-Power Europe, his company met potential partners and clients, but "also had the opportunity to talk to competitors, which is vital for a start-up company."
One such competitor is Embion, a Dutch start-up company that was founded two years ago. Solar Gateway, their energy management system, also connects PV installations, charging stations, heat pumps, battery storage systems and more, irrespective of their manufacturer. "Solar Gateway can be fitted by any trained installer without special help from our engineers," explained Jochem van der Raak, who represented the start-up at EM-Power Europe.
The system is suitable for applications of all shapes and sizes, from residential buildings with a solar installation and heat pump to industrial companies. It is able to take weather forecasts into consideration as well as day-ahead prices at the EPEX energy exchange, and offers a direct connection to a power trader via an application programming interface (API). The energy management system ensures that the electricity generated on site is used – or stored – as efficiently as possible. If despite this, there is excess electricity that cannot be fed into the grid, Solar Gateway will dynamically curtail production. Embion is also on the look-out for business partners who will help the company expand.
No cloud required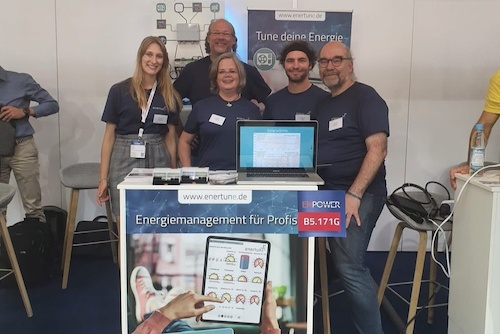 ©AGF
While most modern energy management systems offer Software-as-a-Service and transmit their clients' measurement data to the cloud, AGF Energiesysteme from Regensburg have chosen a different approach. "All the data is stored in the local device," stresses managing director Arno Friedrich. The enertune manager also contains the evaluation software. To control the system, it just takes an internet browser on a PC, laptop or smartphone.
The system is able to integrate a variety of meters from different manufacturers and connect PV installations, cogeneration plants, heat pumps, charging stations and gas or water meters. Ultra-small decentralized installations can be connected to form a decentrally operated virtual power plant at municipal level, for instance. The enertune manager can take into account flexible electricity prices, which helps save considerable costs. The system is suitable for home owners, the real estate industry, commercial operations, municipalities and utility companies.
Hydrogen is king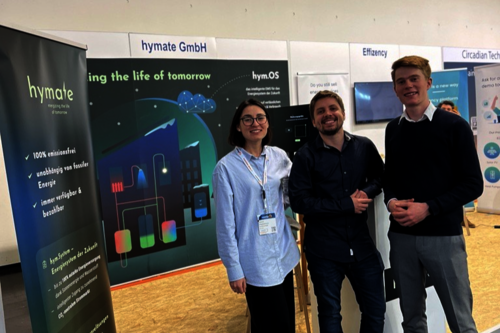 ©hymate
The start-up hymate specializes in a stable, emission-free, all-year-round energy supply based on hydrogen. "In the future, we will have excess green electricity in Germany a lot of the time," said founder and CEO Samuel Muhr. This excess electricity can be used to produce hydrogen, which will store energy for when there is less wind or sun, or for industry and transport. According to Muhr, this is an interesting option for companies, multi-family dwellings and other prosumers who will often not receive any money for feeding excess electricity into the grid in future, or even have to pay for doing so.
The electrolyzers and storage devices needed for this solution already exist, but planning and implementing systems is still complex and expensive, requiring the help of expert engineers.
This is why hymate has developed a smart simulation and configuration software which makes planning hydrogen systems considerably easier and faster, as well as an energy management system based on energy yield and consumption forecasts. This can help to significantly reduce the investment costs for such systems, said Muhr. The start-up company offers planning services, and the first systems are set to go into operation in 2024.
The author of this article is Simone Pabst