Press release – May 13, 2022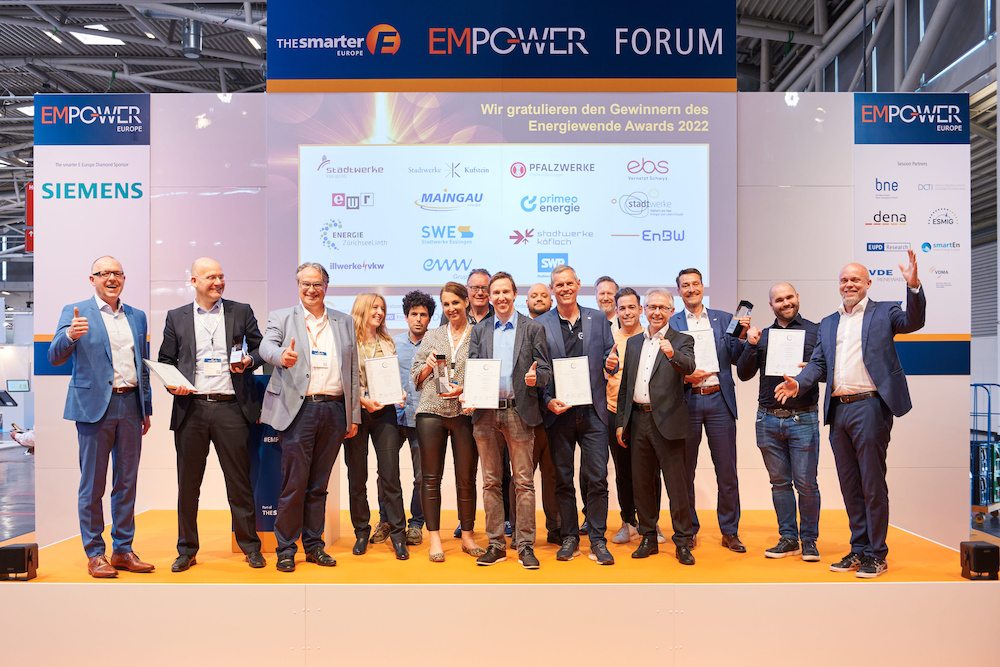 Bonn/ Munich. The geopolitical conflict in the Ukraine demonstrates Germany's high dependence on imports of fossil fuels. It underlines the urgent need to consequently transform the German energy system - especially in the area of heat and mobility - towards a largely self-sufficient energy supply based on renewable energies. Because of its intermediary role between producers and energy consumers, energy suppliers play an essential role in the energy transitions process.
The Energiewende Award is a reflection of society and showcases that any company can and must contribute to energy transition - from local, municipal utilities up to international energy corporations. As multi-faceted as energy transition is regarding the four segments electricity, heat, mobility and energy efficiency, so diverse are the activities of energy suppliers in the D-A-CH region. With respect to the area of electricity, a growing number of energy suppliers offers classic products such as green electricity rates, photovoltaic systems and energy storage. In the context of a continued strong market growth of electric mobility, energy suppliers become more active in this segment. They offer for example electricity rates for charging at home and on the go, charging stations for private or commercial use or as a part of the public infrastructure. Although the heat sector is technologically still dominated by conventional heat systems, energy suppliers are expanding services regarding heat generation and help customers to minimize heat loss. Diverse consulting services in the area of energy efficiency complement the portfolio of many energy suppliers.
The most innovative energy providers in the D-A-CH region were honored with the Energiewende Award in the categories: "Electricity", "Heat", "Mobility", "Energy Efficiency" and "Energy Transition" overall for the 6th time at the innovation platform "The smarter E Europe" on May 12, 2022. The initiators of the Energiewende Award, The smarter E Europe - Europe's largest energy industry platform - DCTI Deutsches CleanTech Institut (German CleanTech Institute) and EUPD Research are proud to introduce the winners of this year's "Energiewende Award 2022" (in alphabetical order) for Germany, Austria and Switzerland.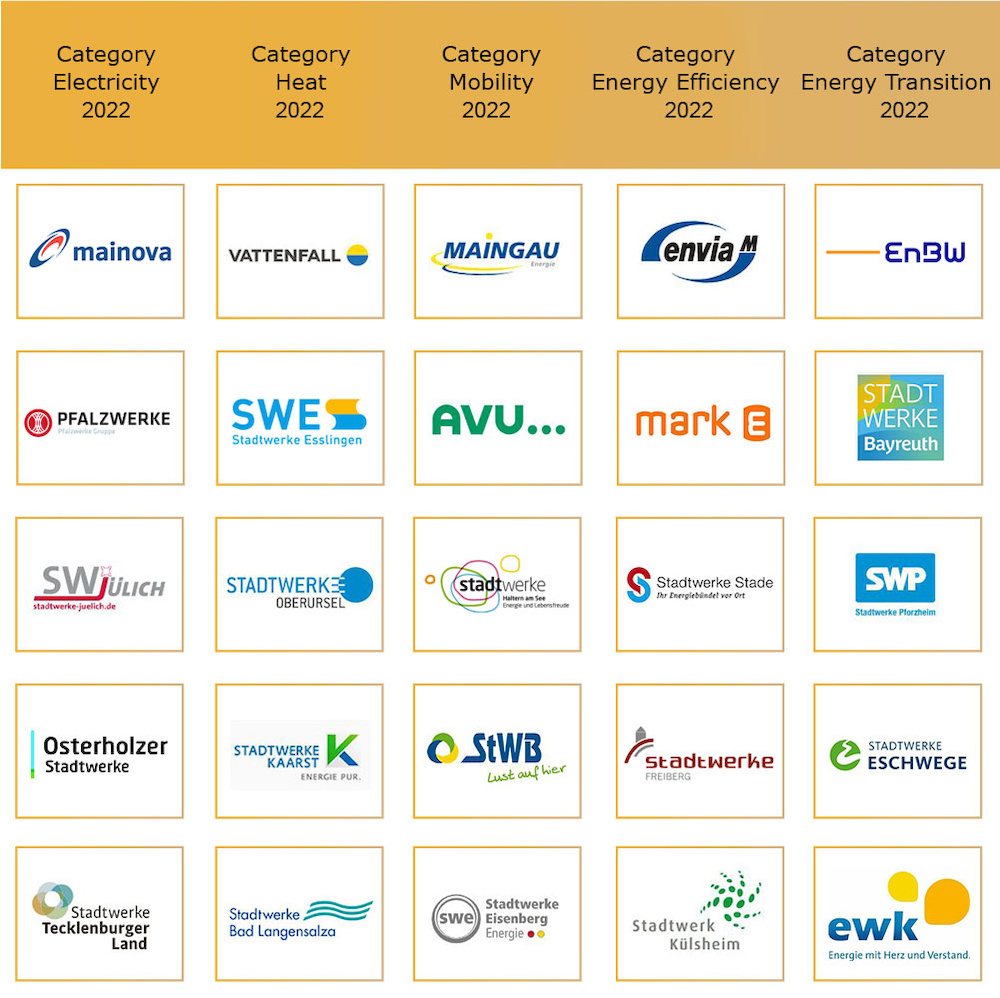 ©Solar Promotion GmbH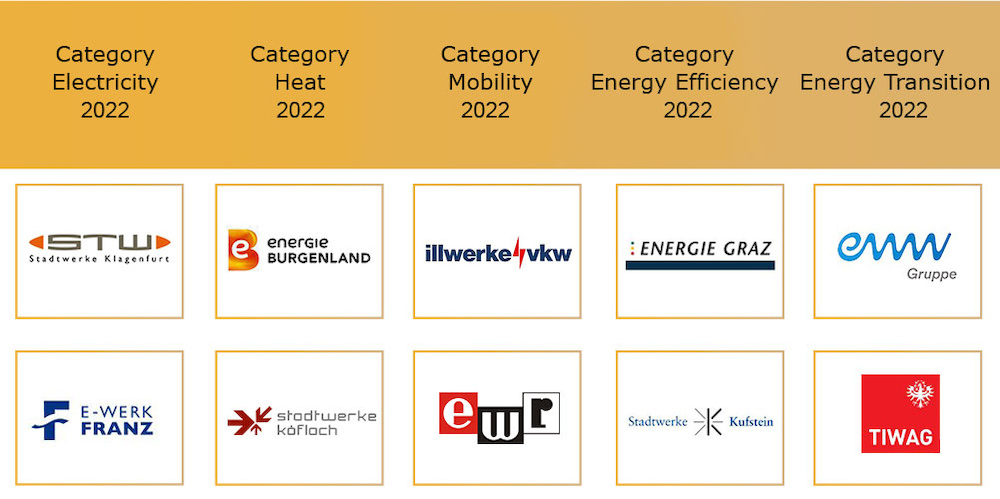 ©EUPD Research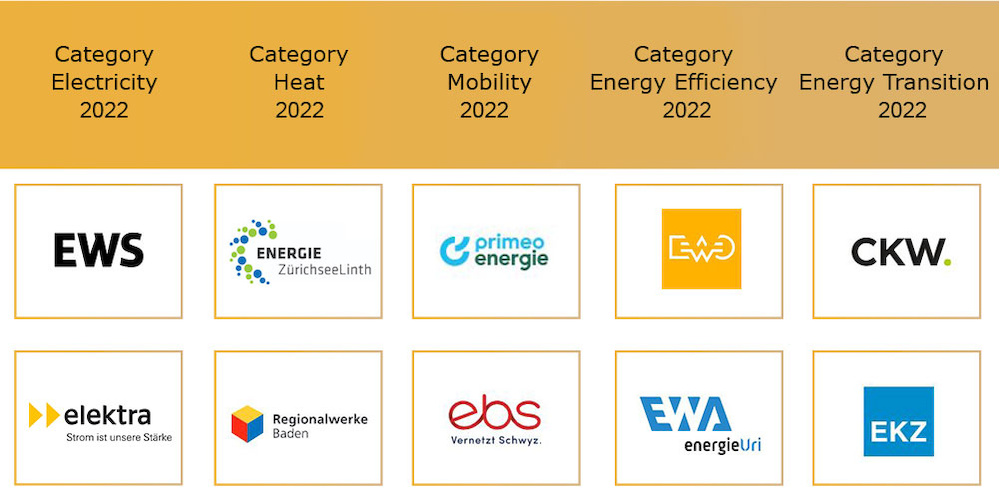 ©EUPD Research
"The Energiewende Award identifies beacons of the energy industry demonstrating how energy transition is being achieved successfully. Together with our partners, we celebrate these energy suppliers with this award. My heartfelt congratulations to all award winners 2022 and thanks to initiators and supporters.", comments Markus A.W. Hoehner, Founder and Managing Director of EUPD Research.
In case of questions, please contact Saif Islam, at +49 (0) 228 97143-20 islam@energiewende-award.de