Press release – Wednesday, May 25, 2022
Munich/Pforzheim, May 25, 2022: There was no shortage of product innovations and new technical developments at ees Europe 2022, Europe's largest and most international exhibition for batteries and energy storage systems that took place at Messe München between May 11 and 13, 2022. The focus of this year's ees Europe was a secure and environmentally friendly energy supply in Europe centered around renewable energy, battery storage solutions and green hydrogen. Plus, the winners of the ees AWARD were announced, a study on the use of hydrogen in the steel industry (Steel from Solar Energy) was published, and forward-thinking scenarios for the industry were discussed at the Green Hydrogen Forum. The next ees Europe will take place at Messe München from June 14 to 16, 2023.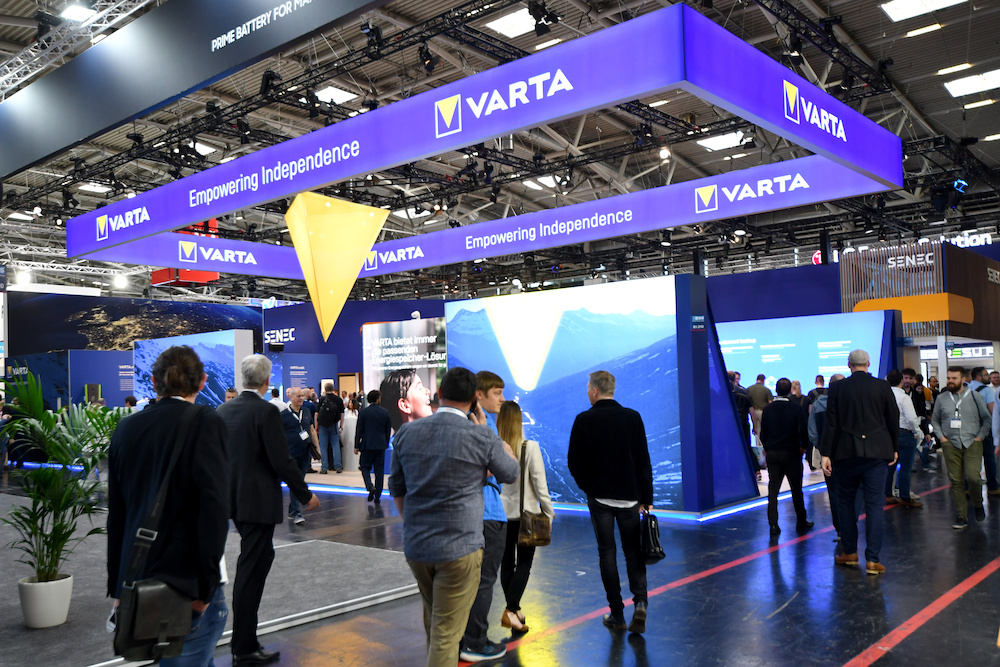 The first regular The smarter E Europe event since the outbreak of the Covid-19 pandemic attracted record numbers of attendees in May 2022, with over 65,000 visitors from 149 countries learning from 1,356 exhibitors from 46 countries in 12 exhibition halls spanning 132,000 square meters. "An exhibition at last – and even better that it was in Munich and was so well received by so many," says Ove Petersen, co-founder and CEO of GP JOULE. "We were delighted that the concept of sector coupling was so high on the agenda at ees Europe 2022. This was the topic that our visitors found most interesting and fascinating." With energy prices rapidly rising, attention is turning to renewable sources of energy combined with smart storage solutions. And demand is growing, as more and more companies and private households look for ways to escape the energy price hikes and secure their own supply of solar power using powerful storage solutions. This situation is indicative of the growing importance of the energy storage industry. With high hopes for manufacturers of commercial and residential storage systems, both markets are expanding rapidly. "People in Germany and other countries are looking for an independent supply of clean energy – and they don't want to wait for it!" says Oliver Koch, CEO of sonnen GmbH. "As far as ees Europe is concerned, there couldn't be a better time to bring together manufacturers and customers with the aim of playing a critical part in hurrying along the energy transition in the home."
Billion-high investments in battery production
Production capacities for lithium-ion batteries are growing faster in Europe than in any other region of the world. Planned investments in battery factories are in the billions. "This year's ees Europe left no doubt about the fact that the European battery market is booming and battery production is gaining speed," says Thilo Brückner, Managing Director of the Electronics, Micro and New Energy Production Technologies (EMINT) sector association at the German Mechanical Engineering Industry Association (VDMA). Current forecasts predict that the continent's share in this global manufacturing business will increase from around 10 percent now to 25 percent by 2030. Alongside projects by European manufacturers such as Freyr, Northvolt, VARTA and Saft, numerous production plants are also being set up in Europe, and in Germany in particular, by businesses from elsewhere such as Samsung SDI, LG Energy Solution, Tesla and CATL.
New study offering important insights
Green hydrogen was another future-focused topic in the spotlight at ees Europe 2022 thanks to the Green Hydrogen Forum & Expo. The forum and associated exhibition space provides an important industry platform for the hydrogen economy, which is looking to develop new international supply channels. "There is no mistaking the optimism radiating from the hydrogen industry," says Werner Diwald, Chairman of the German Hydrogen and Fuel-Cell Association (DWV). "The industry is ready to pool its expertise, experience and determination to push the acceleration of a green hydrogen market economy."
Other speakers alongside Diwald at the Green Hydrogen Forum & Expo included Jorgo Chatzimarkakis, CEO of Hydrogen Europe, Veronika Grimm, Member of the German Council of Economic Experts and Board Member of the Center Hydrogen.Bavaria H2.B, and Kirsten Westphal, Director of the H2 Global Foundation. Major industry players spent three days discussing industry developments. One highlight of the forum was the publication of the study called "Steel from Solar Energy" by Chatzimarkakis with the support of The smarter E Europe on the first day of the exhibition. "This study shows that, owing to the energy price rises, the use of hydrogen in the decarbonization of the steel industry can be economically viable much sooner than recently predicted," says Chatzimarkakis.
The winners of this year's ees AWARD provide another clear reminder of just how crucial research and development is to the innovation process. Contemporary Amperex Technology (CATL) from China impressed our panel of independent experts with its weather-resistant battery storage system with liquid cooling. Stabl Energy GmbH received the award for its SI 100 multi-level converter – a replacement for standard battery inverters that achieves high conversion efficiency. And Voltfang was rewarded for its innovative stationary battery storage systems developed using used car batteries.
The next The smarter E Europe will take place from June 14 to 16, 2023, at Messe München again.