With the Green Hydrogen Forum and Expo area, The smarter E Europe offers a cross industry and cross sector meeting point for companies from all over the world with the aim of bringing hydrogen, fuel cells, electrolyzers and power-to-gas to the markets more quickly.
Benefit from the international reach and cross-marketing via all channels of the largest energy industry platform The smarter E Europe and a strong cooperation with the most important European industry associations.
Present your products and services related to green hydrogen in a B2B environment for the electricity, heating and transport sectors.
Registration for the Green Hydrogen Expo
To participate in the Green Hydrogen Expo with a package solution or in the joint booth, please register as an exhibitor and send us the "Supplementery Agreement Joint Booths and Booth Packages" completed and signed.
Click here for the Online Application for exhibitors
The Supplementary Agreement for the Joint Booth and the Booth Packages at the Green Hydrogen Forum & Expo 2023 will be available soon.
Special conditions available for members of The German Hydrogen and Fuel Cell Association DWV, the European Electrolyzer & Fuel Cell Forum EFCF as well as Eurogas and Hydrogen Europe! Please contact us.
Choose Your Participation Option
Individual Booth in the Green Hydrogen Forum & Expo Area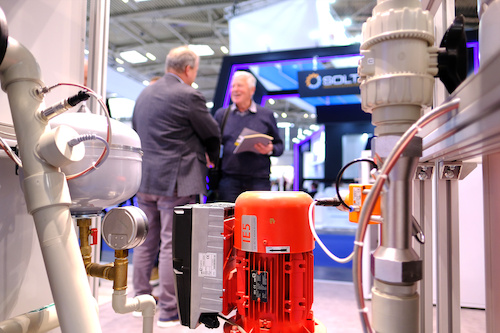 High-quality exhibition presence for the optimal image formation of your company.
Variable booth sizes selectable as
Row booth
Corner booth
Peninsula booth
Island booth
From € 236 / sqm
Attractive Booth Packages for medium sized booths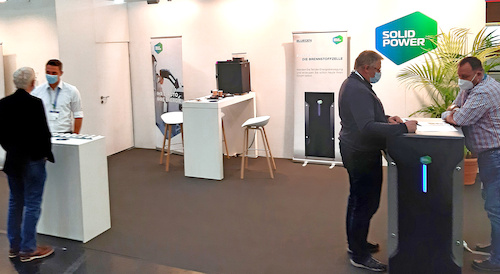 Introduce your company to the visitor with your own booth and benefit from uncomplicated and attractive package solutions for medium sized exhibition booths inkcuding booth construction and many more advantages.
Choose a booth size:
15 sqm Package
21 sqm Package
32 sqm Package
Prices available soon.
Included services:
Back walls (number depending on type of booth, height: 280 cm) including logo print
Storage room
Floor covering (carpet in gray)
Lighting: 1 spotlight per meter of wall
Furniture and accessories: 3 bar stools, high table, lockable counter, brochure stand, waste paper basket, plant
Power supply and consumption (up to 3 kW)
Waste disposal
Professional association fee
Event directory entry
Joint Booth Hydrogen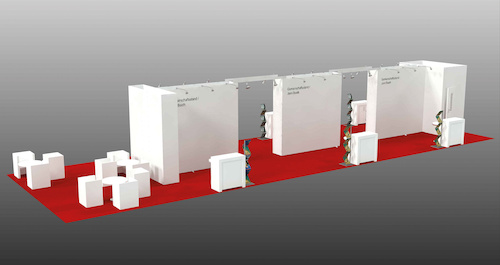 Present your technologies, services or infrastructure solutions at our joint booth and benefit from the easy to handle, reasonably priced and efficient presence at ees Europe 2023 with an extensive service package.
Participants will be included in the regular exhibitor list, with the designation "Participant of the Joint Booth Hydrogen".
The organizer is responsible for the booth construction. Other structures must fit the overall concept of the joint booth and are therefore only allowed in consultation with the organizer.
The package price for the 10 sqm booth space will be available soon.
Included services:
Booth construction: Branding, floor covering, back walls (with logo), spotlights, decoration, storage room including wardrobe, seating corner
Furniture per exhibitor: Lockable counter with logo-imprint, bar stool, brochure rack
Power supply and consumption (up to 3 kW)
Booth surveillance outside opening hours
Daily booth cleaning, Waste disposal
Professional association fee
Event directory entry
Poster Exhibitor
Present your poster!
The package price for a poster exhibitor will be available soon.
Included services:
Poster presentation at the Green Hydrogen Expo
Application as co-exhibitor with EFCF (no extra co-exhibitor fee)
2 exhibitor passes
Listing in the online exhibitor directory of The smarter E Europe
To participate as a poster exhibitor, please fill out and sign the sponsorship form and send it to us as follows:
Name of the sponsoring/marketing offer: Poster exhibitor
Price: Available soon
The Sponsoring & Marketing Order Form 2023 will be available soon.
Make your exhibition presentation a success
Sponsorships incl. Speaking Slot Green Hydrogen Forum
Bronze | Silver | Gold
Prices available soon.
Visibility Package
Innovative products and services alone won't lead to success if nobody knows about them. As an exhibitor, you can choose from a range of marketing options, which will up your company's visibility.
The following services are available to you free of charge:
Extensive entry in the exhibitor list
One press release sent out via the service newsaktuell
Individual exhibition banner for your marekting acitivites
More marketing opportunities can be found here.
Impressions of the Green Hydrogen Forum & Expo 2022
Get an impression of the Green Hydrogen Expo and Forum exhibition area in our review video 2022, directly from the exhibition.
Get in Touch
Strategic Partners