Industry News – Tuesday, September 01, 2020
The Polish Oil and Gas Company (PGNiG) and Toyota Motor Poland will build a pilot hydrogen refueling station under the cooperation agreement. A contract for the design and construction has already been signed; the plant will be built in the Wola district of Warsaw.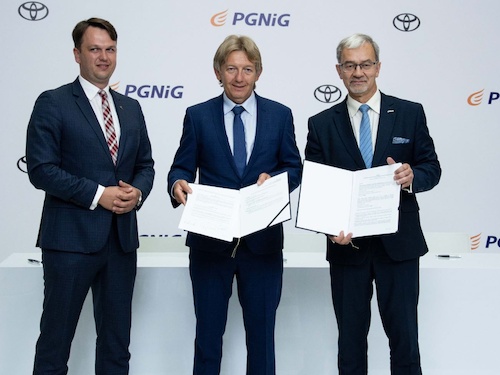 Toyota prepares to release the second generation of its hydrogen fuel cell passenger car Mirai in 2021, defending its position as leader in the development of hydrogen technology for automotive applications in Poland. PGNiG has presented a hydrogen research programme in May and wants to acquire hydrogen competencies by operating the pilot station. The company aims to introduce hydrogen as an important contributor to low- and zero-emission gas mobility in Poland.
"In the automotive industry, we are currently dealing with a revolution, and Toyota as a global brand has been supporting the development of the entire sector for years, including by sharing patents. As Toyota Motor Poland, we have been one of the leaders in innovation and electromobility for years. We are glad that we will work with PGNiG as our partner to make the most effective use of hydrogen at all stages. Engineers of both brands will jointly participate in the process of designing and building a hydrogen refueling station, as well as planning and conducting research," said Jacek Pawlak, President of Toyota Motor Poland and Toyota Central Europe.

Source & Image: PGNiG | www.en.pgnig.pl
The ees International Magazine is specialized on the future-oriented market of electrical energy storage systems, not only from a technological-, but also a financial and application-oriented point-of-view. In cooperation with ees Global, the ees International Magazine informs the energy industry about current progress and the latest market innovations.