Press Release – Wednesday, June 14, 2023
Munich/Pforzheim, June 14, 2023 – The potential of renewable energies is vast. However, only a fraction of this potential is being used, and almost 80 percent of the energy required worldwide is still being generated from fossil fuels. One thing is certain, however: Today, a 24/7 renewable energy supply is both technically and financially possible. This fact – along with the current political situation – is why the entire industry is undergoing a major shift and growing dynamically. According to the International Energy Agency (IEA), by 2027, photovoltaics alone will have replaced natural gas and coal as the main source of electricity. With its four individual exhibitions – Intersolar Europe, ees Europe, Power2Drive Europe and EM-Power Europe – The smarter E Europe opens its doors today to show how a 24/7 renewable energy supply can be realized. More than 2,450 exhibitors will be presenting their latest products and solutions for the new energy world at Europe's largest platform for the energy industry. Over 85,000 visitors from 160 countries are expected to attend the event by Friday. On three full exhibition days, The smarter E Europe offers the ideal opportunity to explore the latest trends, technologies and business models while meeting the industry's visionaries and decision makers.
The smarter E Europe 2023, which opens its doors today, is all about a renewable energy supply around the clock: More than 2,450 exhibitors will be showcasing their innovative products and solutions across 180,000 square meters in 17 exhibition halls (A1–A6, B0–B6, C1–C4) and at the Outdoor Area. With this, The smarter E Europe offers the space needed to share ideas on current trends, technologies and business models, and to accelerate the implementation of a 24/7 renewable energy supply. "We need a flexible electricity system with continuous balancing between distributed power generation from renewable sources, controllable power plants, flexible loads including electrolyzers and storage systems in various shapes and sizes. This will allow us to build up a stable 24/7 energy supply, reach our climate goals while at the same time drastically reducing our dependence on energy imports," says Prof. Dr. Hans-Martin Henning, Director of the Fraunhofer Institute for Solar Energy Systems (ISE).
Intersolar Europe 2023: Larger exhibition space for technologies and trends
Photovoltaics (PV) plays a key role here: For the first time in history, in 2022, the total global PV capacity exceeded the one terawatt mark. As the world's leading exhibition for the solar industry, Intersolar Europe reflects the industry's positive development, leading it to expand its exhibition space to 111,500 square meters. With its extensive accompanying program, Intersolar Europe attracts an international expert audience. The PV manufacturing stage, for instance, is where experts will be reporting on PV production highlights (hall A2, booth A2.409), while industry association SolarPower Europe will be presenting its Global Market Outlook for Solar Power 2023–2027 at the Intersolar Europe Conference (June 13–14 at the International Congress Center München). "The Global Market Outlook illustrates that the European market is growing at an enormous rate – even faster than most other regional markets in the world. It explores the most thriving markets," says Michael Schmela, Executive Advisor at SolarPower Europe.
ees Europe 2023: More than 650 exhibitors present energy storage systems
One of the keys to a secure and stable, 24/7 supply of renewable energy is battery storage, because it can provide flexibility in the power grid. "In Germany, most of this flexibility is built into more than 650,000 residential storage systems, while a growing number of companies are having commercial storage systems installed and large-scale storage systems are supporting our grids each and every second," says Jan Figgener, Head of Section Grid Integration and Storage System Analysis. The importance of energy storage becomes obvious when looking at the development of ees Europe: Compared with last year, both exhibitor numbers and exhibition area have more than doubled. Over 650 exhibitors will be showcasing their products across more than 45,000 square meters covering five exhibition halls and the Outdoor Area.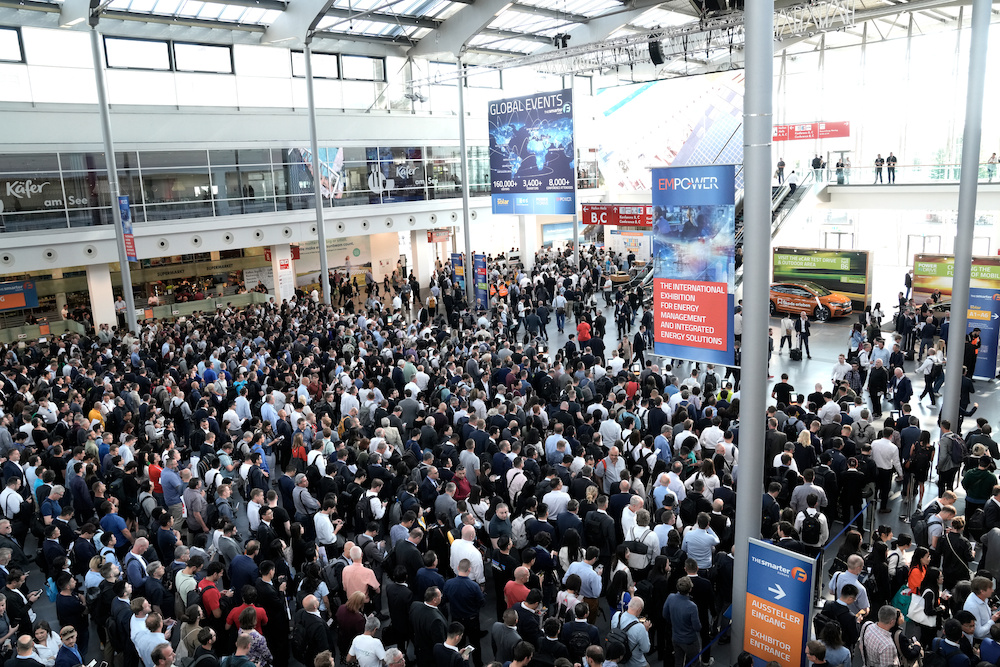 ©Solar Promotion GmbH
Power2Drive Europe 2023: New technologies for the energy and mobility transition
The ongoing energy and mobility transition is driving the supply of electromobility and charging infrastructure. Power2Drive Europe offers a comprehensive overview. At the Power2Drive Forum (hall B6 booth B6.650), scientists and experts, manufacturers, distributors, start-ups and professional users will share insights into current topics and new technologies. Power2Drive Europe will also be covering Vehicle2Home/Building (V2H/V2B). "Electromobility is the cornerstone of a successful mobility transition and makes a significant contribution to decarbonisation. In 2022, more than one million e-vehicles were on Germany's roads alone. Their storage capacity already amounts to 55 gigawatt hours today, more than all German pumped-storage power plants combined. If the cars are just parked and connected to the grid, using them to stabilize the electricity grid and increase its flexibility is ideal. The goal of bringing 15 million e-vehicles on German roads by 2030 leads to a storage potential of 825 gigawatt hours – this is huge. Even if only a portion of this capacity is used to stabilize the grid, it will be critical to the success of the new energy and mobility world."
Charging solutions for fleets and smart solutions for combining low-cost renewable power generation and sustainable mobility will be showcased in the Outdoor Area, for example parking lot PV. To offer exhibition visitors the full experience of electromobility, even more test drive options have been added.
EM-Power Europe 2023: For a holistic, renewable energy system
The power grid of the future needs to be digital, flexible, smart and integrated if it is going to guarantee a reliable supply of renewable energy around the clock. "Moving towards a verifiable system of matching the production of carbon-free sources of energy with consumption on an hourly basis can help accelerate the decarbonisation of the grid, reduce costs, increase accuracy of carbon reporting and facilitate system flexibility", says Bruce Douglas, Director Business & Communications at European industry association Eurelectric. The modernization of the power grid to become a smart grid, the integration of prosumers, e-mobility and power-to-heat concepts into a holistic, renewable energy system, and the efficient, 24/7 use of renewable sources of energy are the focus at EM-Power Europe 2023. Compared to last year, 40 percent more exhibitors will be showcasing products and solutions for the new energy world.
The smarter E Europe 2023: Integrated solutions for a 24/7 renewable energy supply
The smarter E Europe, the continent's largest platform for the energy industry, will be presenting solutions, products and business models for a 24/7 renewable energy supply. "We provide the ideal platform to share ideas across industries and sectors. We can only make the new, sustainable energy and mobility world a reality by joining forces," says Markus Elsässer, CEO of Solar Promotion GmbH, who organizes The smarter E Europe together with Freiburg Wirtschaft Touristik und Messe GmbH & Co. KG (FWTM). Hanna Böhme, CEO of FWTM, adds: "At our four energy exhibitions and conferences, stakeholders from each of the sectors can make new contacts, learn from each other and lay the groundwork for joint projects."
The smarter E Europe, which encompasses four individual exhibitions (Intersolar Europe, ees Europe, Power2Drive Europe and EM-Power Europe), will take place from June 14–16, 2023, at Messe München.