Expert Interviews – Thursday, June 18, 2020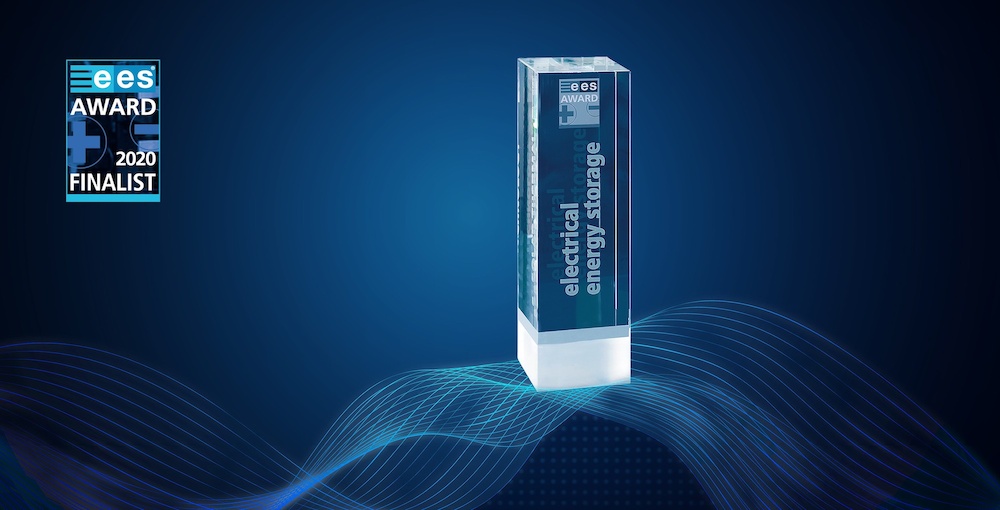 Innovations in the energy storage industry are driving the modernization of the energy infrastructure worldwide. Every year, the ees AWARD in the category Electrical Energy Storage honors all companies that already contribute to an intelligent, sustainable and cost-effective energy supply.
On June 4, 2020, this year's ees AWARD Finalists 2020 were officially announced. We interviewed them exclusively and asked them about the importance of the finalist nomination, their innovation and the need for future innovation in the renewable energy industry.

Thanks to all nominated companies and interview partners (who took part in the interview):
BYD Company Limited – Julia Chen, Global Director BYD Battery-Box (BYD)
FENECON GmbH – Franz-Josef Feilmeier, CEO (FENECON)
Instagrid GmbH – Muhanad Khayal, Sales Manager & Business Development (Instagrid)
Pylon Technologies Co., Ltd. – Geoffrey Song, Vice president of Pylontech (Pylon)
volytica diagnostics GmbH – Claudius Jehle, Dipl.-Ing., CEO and Co-founder (volytica)
Webasto SE (Webasto)
ZNR BATTERIES/ZINIUM – Xavier ROMON, Zinium – Marketing and Sales Development Director (ZINIUM)

What does the nomination mean for you and your company?
BYD: BYD follows the vision of Zero Emissions Energy Ecosystem and continuously invests into developing news solutions that bring us closer to this vision. Efficient energy storage is an important part of the vision of a green & sustainable future, therefore we are very glad about the recognition, a renowned award such as the EES Award provides for our investment and dedication for the technology advancements in energy storage solutions.
FENECON: First of all – we are very proud! We are a young and multi-cultural team and are highly motivated to develop real innovations to bring the energy transition forward. Being an agile and highly flexible enterprise, we think and act in new dimensions. The nomination means to the team that our efforts and creativity are seen an honored. It means for our company that we are now powerfully industrializing the product with many new jobs in our team as well as at our suppliers.
Instagrid: Since the company was founded in 2018, instagrid has achieved many proud achievements and milestones. And yet the nomination for the Intersolar award 2020 is certainly one of the most memorable as we will be on the same level to some of the largest and longest established developers of Electric storage systems in the industry. For a start-up company that has been founded within the last two years that is regarded as a very strong achievement!
Pylon: Pylontech's ESS solutions had been serving hundreds of thousands of customers globally. We kept low profile and just focused on technology, product developments and market penetration. Being nominated really makes great sense for us since this is the first time we applied the award and we are expecting to be awarded, we are definitely more proactive to use our exposures to grow with the industrial and make more contribution to the world.
volytica: We are honored to be a finalist among such high-profile companies - all of them have innovative products and services, and every single one deserves recognition and attention on its own! I regard the nomination alone as a great success, as it clearly indicates that others regard our direction and plans at least as valuable as we do. It will help us underline the relevance of battery diagnosis and field-data monitoring.
Webasto: We are very proud and honored that our dedication and passion to develop high-quality and future-proof battery systems to accelerate the electrification of public transport is recognized and appreciated by the EES Award jury. With this nomination we have the chance to present ourselves and our battery systems to an even broader audience of experts within the industry of electrical energy storage solutions and battery systems.
ZINIUM: We are very proud to be selected as one of the finalists for the EES AWARD 2020, this is a great achievement for our company. Our company was created in 2016 as a spin-off of the EDF laboratories in order to develop a clean rechargeable stationary Zinc-Air technology. Being nominated at the AWARD 2020 is important for us to let the people know that there are promising new technologies being developed in Europe to improve the carbon impact of the battery industry and enable the energy transition.
What is special about your innovation?
BYD: The modular Battery-Box Premium series offers unprecedented flexibility for both system capacity as well as application scenarios. The energy storage system fulfils most stringent industry standards such as VDE 2510-50. In addition, the system's plug-and-play functionality eliminates the need to connect wires and thereby revolutionizes the installation – making it quicker and easier and eliminating room for errors.
FENECON: Since our first second-life project five years ago we saw that at a certain time there will be plenty of e-car batteries – but we were not sure if utilizing them industrially would work, because integration was more expensive than for stationary battery modules. But when we did the first zero-life-systems (flexible e-car battery spare-parts warehousing with energy market integration), we thought the whole thing completely new and realized that we could turn the specifics from disadvantages to strong advantages. The result is a new era of container systems with an unprecedented level of modularity, mobility, bankability, multi-use ability, compactness – at still low CAPEX and even very low OPEX. The design allows the use of new batteries to stay in that stationary storage, but also for second-life- and sparepart-projects. In the end we created an absolutely flexible basis for e-car batter.
Instagrid: Our innovation is based on proprietary developed smart AC-coupled modules, where every module brings its own micro power conversion system (PCS). Instead of using one large power converter, we use several small and very efficient converters that are controlled to cooperatively serve the load. The system can be cooled passively without heat sinks, fans, or even vents in the housing. We achieve this by a complex control software. One of our core assets is, we move complexity from the hardware- to the software-side. Unlike competitors, we do not build our solution on industrial components, on battery cells developed for large-scale consumer markets (i.e. smart phones, automotive and power tools), thus, our BESS are very cost-competitive, enabling an low specific production costs. This innovation is also applicable to stationary battery solutions.
Pylon: In our powercube-H1 system, the self-developed BMS can not only automatically detect and configure with varying amount of battery module connected with, but also dynamically calculate the operation and protection strategy base on the real-time module amount. Intelligently manage self-diagnosis, raking the error immediately when happens, for low level risk will self-debug automatically, for high level risk will first implement self-protection and report to upper controller or monitoring portal. Support of hot-swap/replacement/expansion. Including of the third level of BMS ultimately increase the energy storage capacity per system level, with more intelligent BMS address assignment logic which available for commercial and industrial application. All these features enable the system to be adoptable to most scenarios from home storage to small-media commercial/industrial ESS.
volytica: Automation, quick start and quality. Battery degradation and, more generally speaking, the performance-to-operation-profile fit cannot be easily determined, neither before start-of-production, nor during operation or when a transaction from first to second use is due. Gathering the data alone can be a challenge, but once it's there, someone needs to 'crack' it. Even the most experienced battery expert needs tools, algorithms and software to convert voltage and current into a lifetime assessment. But once you got hundreds of MWh out there -which we hope for you- , you might need dozens of such costly folks. We kick in here: We provide an easy access Cloud diagnostics APIs, and an -optional- telematics platform. We onboard within 2 weeks, and we grow with our customers from 1kWh to 1GWh with our scalable Cloud platform.
Webasto: The Webasto Standard Battery System offers especially commercial vehicle customers different applications a viable, high-quality plug-and-play solution with highest automotive standards and norms in focus. Due to the innovative two-layer design and using the existing vehicle architecture, the battery systems fit in any given installation space and enable the electrification of vehicles with minimal costs and requires little to no vehicle adaptations.
ZINIUM: Our zinc-air technology features non negligible key benefits. First of all, it is perfectly safe : there is no risk of thermal runaway or explosion, which is a huge advantage. We conducted several abusive tests which confirm the safe and limited reaction of our products in extreme situations. Then, we wanted to develop a sustainable technology : we use no precious metal, no toxic material, no rare earth. Zinc is abundant on earth and recycling processes already exist in Europe. Last but not least, the zinc-air technology has a bright future: it has amazing development perspectives. For example, on the long-run, zinc-air could have an energy density as twice as high compared to lithium-ion.
What future innovations does the renewable energy industry need?
BYD: There is still room for a lot of innovations in energy storage that can lead to high density but safe batteries. Similarly important is the growing interconnection of all the solutions and field to make sure the different fields can work together and achieve the best possible synergies. An example is the interaction of residential pv systems, e-vehicles and energy storage.
FENECON: Flexibility! We need flexible storage systems, manageable loads and open EMS systems to take over the 100% energy supply without fossil/nuclear backup. But we also need flexibility in the storage systems themselves: I believe that many systems will not just stay unchanged at one place for 20 years, because load curves will change, e-cars will come and additional applications are needed.
Instagrid: To achieve any substantial progress in decarbonization under the Paris Agreement, renewables' integration in the energy networks is required. There is a strong need for a leap to lower cost and improve performance at the system level. We aim to provide a flexible low-cost solution to overcome the limits of current technologies and system architects which is key for the future industry.
Pylon: In next decades we will be moving steadily toward a sustainable/stable/affordable energy structure. The innovation for reliable/scalable/affordable energy storage system is indispensable, Pylontech strives to make innovation in the above direction based on our technology and application know how to make a better world for our descendants.
volytica: An awful lot of optimization and innovation will come from better system design and software. We optimize energy density, efficiency and system design to get the last 3% in range - in theory. In practice we have no clear idea on the actual SOC, energy content and on the degradation, and incorporate 10-30% of excess backup reserves…Who knows the actual degradation of their deployed systems?
Webasto: Webasto's vision is to ensure resource-efficient mobility. This makes sense mainly through electrification with renewable energy. We need solutions that enable suppliers/manufacturers of vehicles in smaller quantities to play their part in the further development of mobility, especially in the public transport sector. Therefore we want to make "Payable E-Mobility for Everyone" possible.
ZINIUM: We think electricity storage coupled with PV panels will become the main source of electricity for households, small businesses and small industries. Its potential of development is huge from both an economic and a social perspective. We expect storage solutions to become a standard solution. The industry needs for this development clean, reusable, recyclable and low environmental impact products.
Please complete this sentence: "Renewable energy means to me / us ...
BYD: ... the foundation for a sustainable future and the only way future generations will be able to sustain this planet."
FENECON: …a secured, democratic, price stable, independent, eco-/climate-friendly – and the one and only alternative- for energy supply. We have to understand what 100% RE means and needs – and have to go for."
Instagrid: ... ability to make the world a more sustainable place to live. We believe that a world powered by renewable energy is the right way to the future. Renewable energy means being efficient in all aspects."
Pylon: Renewable energy means future for me. Renewable energy resources plus storage system is the only way for us to move forward to next decades with more energy usage and less hurting to the earth.
volytica: It's pursuance is our all's obligation, without any alternative.
Webasto: Renewable energy means to us to increase the speed of the electrification of mobility using resource-friendly, sustainable energy to actively support a greener future.
ZINIUM: Renewable energy is, to us, the key to developing decentralized and responsible energy systems. Storage equipment will accompany this energy transition to shape a greener, cleaner world.