Industry News – Wednesday, April 01, 2020
Today, Europe's first gigafactory for battery storage systems run by Tesvolt starts production in Wittenberg, Germany. The output will be produced systems with up to one MWh per day with the option to expand to as much as one gigawatt, answering especially the increasing demand for storage systems with emergency power.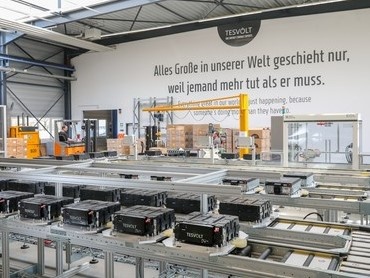 The lithium-ion storage systems in the Wittenberg plant are manufactured in a semi-automated full-cycling production process, followed by a fully automated end-of-line-inspection. While the production planning staff can work from home, production employees work onsite but isolated from each other due to COVID-19.
"The coronavirus crisis is a major concern for us as a manufacturer as well as on a human level. We're very grateful that we were able to close the first quarter with strong turnover figures", says Daniel Hannemann, Managing Director and co-founder of Tesvolt.

Source: Tesvolt | www.tesvolt.com
The ees International Magazine is specialized on the future-oriented market of electrical energy storage systems, not only from a technological-, but also a financial and application-oriented point-of-view. In cooperation with ees Global, the ees International Magazine informs the energy industry about current progress and the latest market innovations.