Industry News – Monday, December 28, 2020
BYD has received a major order to supply 406 all-electric buses to the Colombian capital Bogota. Approximately 150,000 residents use the routes each year, on which the new buses will be in service in 2021.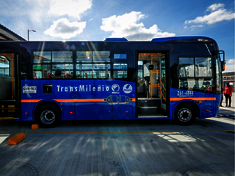 This delivery is a follow-up order after BYD already received an order for 470 all-electric buses from the city of Bogota's public transport authority TRANSMILENIO S.A on December 17. BYD will work with Superpolo, a Colombian bus manufacturer, to build the buses. BYD has been active in the South American market for several years and introduced the first all-electric cab fleet in Colombia in 2013. The company is also present in Chile, Ecuador, Brazil, Barbados, Panama, Costa Rica, Uruguay and Argentina.
"BYD is honored to receive another large order. There are currently 483 electric buses in TRANSMILENIO S.A, and when all 406 buses are in operation next year, Bogota will have 889 pure electric buses, of which 876 will be from BYD – accounting for more than 98.5%," said Lara Zhang, Regional Director of BYD Latin America.

Source: BYD Company Ltd. │www.byd.com
Image: BYD Company Ltd. │www.byd.com
The ees International Magazine is specialized on the future-oriented market of electrical energy storage systems, not only from a technological-, but also a financial and application-oriented point-of-view. In cooperation with ees Global, the ees International Magazine informs the energy industry about current progress and the latest market innovations.