Industry News – Wednesday, July 01, 2020
Energy storage integrator FlexGen is equipping an Indiana utility with a Li-Ion BESS that will fire up the site's natural gas turbines in case of power outages.The system will make the state's grid more reliable, providing providing jump start power in a cheaper and cleaner way than the usual diesel generation alternatives.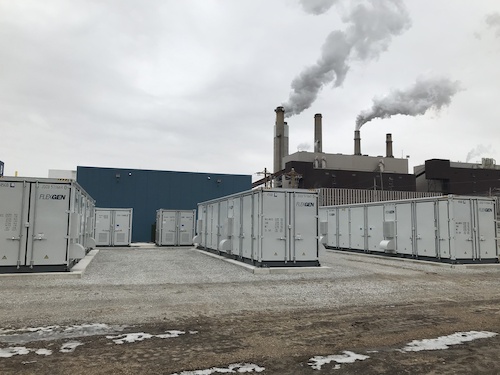 As of now, the generating station project consists of a 12 MW, 5.4 MWh battery storage system, firing up two 77 MW gas turbines. The Indiana facility has already used the system to black start a 112 MVA generation step-up transformer (GSU), making it the largest BESS-based black start of a transformer in the USA. The FlexGen system will not only support the modernization and decarbonization of the local grid, but also add power resiliency to the city of Chicago.
"FlexGen provides integral capabilities like black start for utility clients' existing power plant sites through cost-competitive battery storage assets," says Alan Grosse, FlexGen's COO. "We look forward to helping Indiana further integrate carbon-free technologies that increase the reliability of the electric system."

Source & Image: FlexGen | www.prnewswire.com
The ees International Magazine is specialized on the future-oriented market of electrical energy storage systems, not only from a technological-, but also a financial and application-oriented point-of-view. In cooperation with ees Global, the ees International Magazine informs the energy industry about current progress and the latest market innovations.