About 200,000 Residential Battery Solutions Installed in Germany by the End of 2019 – sonnen and BYD are the Leading Suppliers
Industry News – Thursday, April 23, 2020
Bonn-based market researcher EUPD Research reports that 2019 was another record year for residential battery storage in Germany with around 65,000 new installations.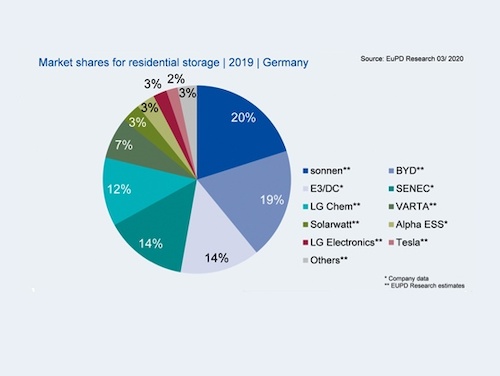 As joint installations of solar PV systems with battery storage in Germany currently account for almost 90% of all installations, the PV market development is especially important for residential battery storage sales. Within a year more than 78,500 new PV systems were registered in the residential segment between 3 and 10 kW, a 41% increase of PV systems in this category compared to 2018.
The study also shows that the cumulated market volume doubled within the last two years with currently about 206,000 residential storage systems installed in Germany and an increase of 44% compared to 2018.
"The photovoltaic success story appears to repeat itself for residential energy storage in Germany. Besides challenges presented against the background of the coronavirus pandemic, the residential energy storage market in 2020 is confronted with market limitations caused by a 52 GW solar cap", comments Markus A.W. Hoehner, CEO of EUPD Research.
Despite a growing number of suppliers in the market, the top positions have been dominated by the same providers over the last few years. Front runner sonnen from Bavaria is followed by Chinese manufacturer BYD. E3/DC, based in Osnabrück, and manufacturer SENEC from Leipzig, Saxony, are in third place with a market share of 14 percent respectively. The Korean manufacturer LG Chem completes the top 5.

Source & Image: EUPD Research | www.eupd-research.com
The ees International Magazine is specialized on the future-oriented market of electrical energy storage systems, not only from a technological-, but also a financial and application-oriented point-of-view. In cooperation with ees Global, the ees International Magazine informs the energy industry about current progress and the latest market innovations.