Industry News – Tuesday, October 20, 2020
Finnish technology group Wärtsilä has received a repeat energy storage system order totaling 90 MW / 90 MWh from an existing South East Asian customer. The company already has a strong presence in the SEA region with a total installed capacity above 9000 MW of which 2000 MW were executed as EPC delivery including approximately 300 MW of energy storage.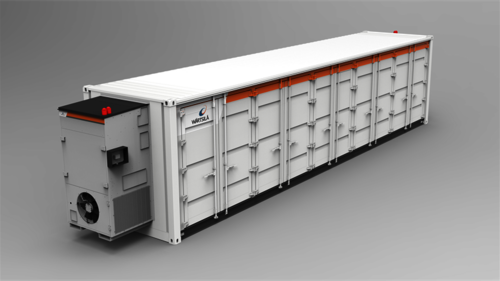 The latest system includes Wärtsilä's propriety software and hardware solutions such as the standardized GridSolv Max solution that provides flexible and modular storage for the core hardware assets within Wärtsilä energy storage systems, including batteries, a safety and fire system, and inverters. Wärtsilä's energy management platform, GEMS, provides the smart digital controls that optimize the entire storage system, enabling reliable, resilient power supply.
"This contract represents a further endorsement of Wärtsilä's EPC capabilities, which have been sharpened with experience from similar regional projects. Our speed of execution and the coordination between the teams involved provides the support demanded and delivers an optimized solution to the customer," commented Nicolas Leong, Wärtsilä Energy Business Director, North and South East Asia.

Source & Image: Wärtsilä | www.wartsila.com
The ees International Magazine is specialized on the future-oriented market of electrical energy storage systems, not only from a technological-, but also a financial and application-oriented point-of-view. In cooperation with ees Global, the ees International Magazine informs the energy industry about current progress and the latest market innovations.