Industry News –Monday, June 15, 2020
Thin Film Electronics ASA (Thinfilm) deposits lithium-based layers on an ultrathin steel substrate. The company now announced the completion of the deposition of critical layers on its SSLB stack.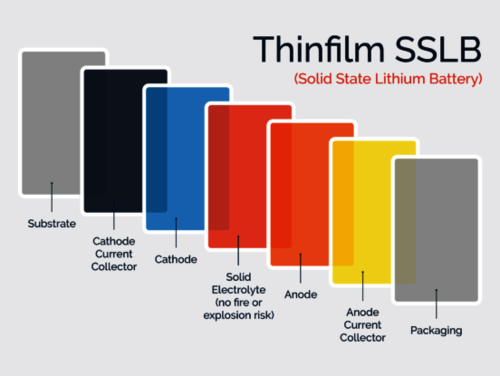 With the initial testing results exceeding expectations, the company's manufacturing process nearly achieves the maximum entitled energy density for SSBL. This will provide new possibilities for ultrathin battery cells with extended lifespan, powering Thinfilm's wearable devices and connected sensors. Together with features like form factor options, charging cycling count, expanded temperature operating range and better safety, the energy density of battery cells was indicated as an important differentiation factor of products by market feedback.
"Thinfilm's technical team has delivered on an important milestone in the production of SSLB batteries using Thinfilm's uniquely scalable, stainless steel manufacturing process. By simultaneously innovating in core battery stack technology, cell manufacturing, and cell packaging and stacking, Thinfilm is focused on delivering premium battery products to enable the next wave of innovation in wearable devices and connected sensors," says Thinfilm CEO Kevin Barber.

Source: Thinfilm | www.globenewswire.com
Image: Thinfilm | www.thinfilmsystems.com
The ees International Magazine is specialized on the future-oriented market of electrical energy storage systems, not only from a technological-, but also a financial and application-oriented point-of-view. In cooperation with ees Global, the ees International Magazine informs the energy industry about current progress and the latest market innovations.