Industry News –Wedneday, October 28, 2020
Technology group Wärtsilä and Sunseap Energy Ventures in Singapore installed the 2.4 MW/2.4 MWh energy storage system under an EPC contract. This is the first utility-scale ESS in Singapore and serves as a test-bed supported by Singapore's Energy Market Authority (EMA) and SP Group, a leading energy utilities company in Asia Pacific. The new ESS-System represents an important milestone in Singapore's energy transition towards a low-carbon energy future.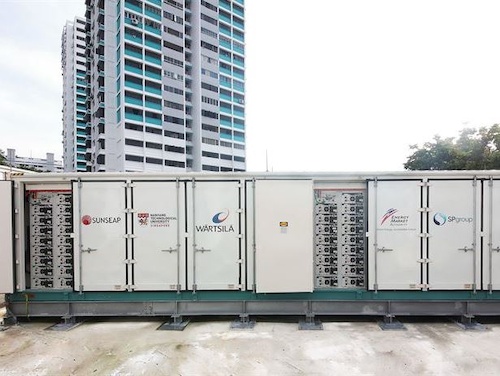 It features Wärtsilä's GEMS advanced energy management platform, as well as the company's GridSolv Max solution, a standardized energy storage technology designed for safety with core storage hardware assets, including batteries and inverters.
Next to providing grid support, the utility-scale energy storage system will also provide insights into ESS' performance under Singapore's hot and humid environment and will aid in establishing technical guidelines for such deployments.
"This is an important step forward for Singapore's energy system. We expect this first battery system in Singapore to enhance grid stability by providing the quick response and flexibility needed when integrating solar power into the grid. This project will also provide learnings for future ESS applications and pave the way for more solar power to generate more green energy in Singapore," said Frank Phuan, CEO and Executive Director of the Sunseap Group.
"Energy storage is rapidly becoming a key issue for the global energy markets, and the combination of our unique GEMS software, the GridSolv Max solution, and Wärtsilä's EPC capabilities have given us a leading position in this field. We are proud to be playing an important role in helping Singapore achieve a low-carbon energy future," commented Nicolas Leong, Energy Business Director, North & South East Asia, Wärtsilä.
Singapore targets to have at least 2 GWp of solar deployment by 2030, and an energy storage deployment of 200 MW beyond 2025.

Source & Image: Wärtsilä | www.wartsila.com
The ees International Magazine is specialized on the future-oriented market of electrical energy storage systems, not only from a technological-, but also a financial and application-oriented point-of-view. In cooperation with ees Global, the ees International Magazine informs the energy industry about current progress and the latest market innovations.