Several Companies Sign Collaboration Agreement H2Accelerate for Zero Emission Hydrogen Trucking at Mass-Market Scale
Industry News – Tuesday, December 15, 2020
Daimler Truck AG, IVECO, OMV, Shell, and the Volvo Group have signed the collaboration agreement H2Accelerate (H2A), under which they will work together to help create the conditions for the mass-market roll-out of hydrogen trucks in Europe. Participants are expected to work at securing more funding for early and pre-commercial phases of the project, and engage with policy makers and regulators to encourage a policy environment which will help support the subsequent phases and roll-outs. H2A participants believe that their plan is necessary to meet the European ambition of net zero emissions by 2050.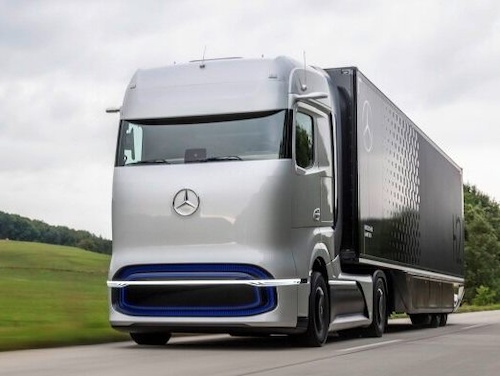 The decade long scale-up is currently planned to work in two phases. The first phase will see a rollout of the first high capacity stations and trucks, with groups of customers willing to make early commitments to hydrogen-based trucking. The fleets established here are expected to work in regional clusters and along European high capacity corridors with good refuelling station coverage. The second phase is expected to come in during the second half of the 2020's with Europe-wide coverage that connects these established clusters to build a pan-European network
Martin Lundstedt, President and CEO of the Volvo Group, said: "Climate change is the challenge of our generation and we are fully committed to the Paris Climate Agreement for decarbonizing road transport. In the future, the world will be powered by a combination of battery-electric and fuel-cell electric vehicles, along with other renewable fuels to some extent. The formation of the H2Accelerate collaboration is an important step in shaping a world we want to live in."
Martin Daum, Chairman of the Board of Management of Daimler Truck AG and Member of the Board of Management of Daimler AG, said: "The participant companies in H2Accelerate agree that hydrogen-powered trucks will be key for enabling CO2-neutral transportation in the future. This unprecedented collaboration is an important milestone for driving forward the right framework conditions for establishing a mass market for hydrogen-based trucking. It is also a call to action for policymakers, further players involved and society as a whole."

Source & Image: Daimler │ www.media.daimler.com
The ees International Magazine is specialized on the future-oriented market of electrical energy storage systems, not only from a technological-, but also a financial and application-oriented point-of-view. In cooperation with ees Global, the ees International Magazine informs the energy industry about current progress and the latest market innovations.