Schneider Electric Solar Introduces New Digital Platform for the Management of Solar and Storage Energy
Industry News – Wednesday, July 29, 2020
The new energy management platform is called Insight and is tailored to the needs of both private and commercial users who want to monitor and control their solar and storage systems in a completely digital way. The product is capable of supporting smart homes and electric vehicles and also offers benefits for installers, as Insight enables them to perform customer installations remotely.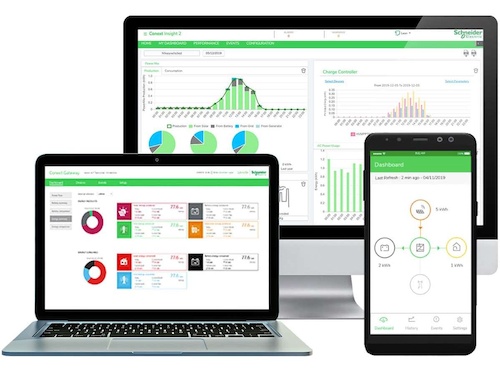 Insight also promises installers a set of portfolio monitoring and management tools that allow them to easily keep track of a large number of installation sites.
For homeowners, Insight provides more accurate and complete data on the performance of their solar installation, including cost savings and environmental impact. In addition to system performance data, Insight will provide scalable load management capabilities in the future.
The various Insight components have been developed in line with international cyber security standards, according to Schneider Electric Solar. The company emphasizes that encrypted communication and storage of user information can ensure that access to user information is always protected and that data is stored securely.
"Insight is the evolution of Schneider Electric's solar digital offerings," says Bernhard Kiechl, VP of Marketing, Research & Development, Schneider Electric Solar Business. "Digitalization is rapidly becoming Schneider Electric's core focal point. We're very excited about the future of Insight as we have additional updates planned. We'll be releasing a whole host of new features in the coming months."
Source: Schneider Electric | www.solar.schneider-electric.com
Image: Schneider Electric | www.solar.schneider-electric.com
The ees International Magazine is specialized on the future-oriented market of electrical energy storage systems, not only from a technological-, but also a financial and application-oriented point-of-view. In cooperation with ees Global, the ees International Magazine informs the energy industry about current progress and the latest market innovations.