Industry News – Wednesday, August 19, 2020
ION Energy's battery analytics platform Edison Analytics will be deployed across esVolta's 581MWh North American energy storage projects, reducing battery degradation and maximizing energy trading revenues. The platform, launched in 2019, is not generic but designed to improve the operational efficiency of battery energy storage systems (BESS).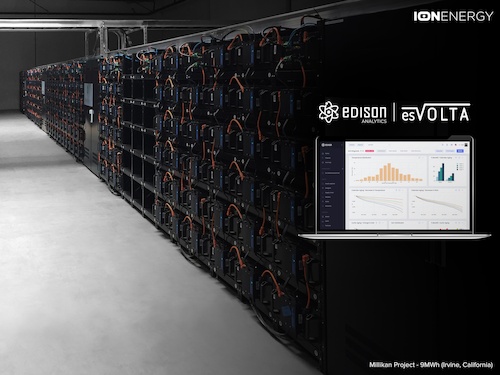 Randolph Mann, President of esVolta, says: "Edison Analytics helps us keep an eye on the operational and financial performance of our portfolio. While scaling up, we felt the need for a data analytics platform that was developed, keeping the needs of a BESS business in mind, and that's where Edison fit in perfectly. "
The companies conducted a successful pilot study where Edison Analytics optimized the 8MWh battery system Millikan BESS project in Irvine, California – one of esVolta's North American sites – and was able to simulate the safe number of battery cycles without abnormal ageing and excessive degradation, estimating annual savings of $ 450,000 for esVolta through improved heating and discharge management. Following this, esVolta decided the deployment of the analytics platform to all their sites in North America, 10 in total. For ION Energy, this landmark deal aligns with their approach of the value of data analytics for global energy transition.
"Battery storage is an emerging technology that is becoming an indispensable component in the energy market and will help generate renewable power on a much larger scale. We are elated to have partnered with esVolta and demonstrate Edison's capability to improve the profitability of BESS. This partnership has offered us immense potential to grow and deliver the best solution in all the markets we serve. It bolsters our core offering and defines our leadership in the battery analytics space," says ION Energy CEO and Co-Founder Akhil Aryan.

Source: ION Energy | www.ionenergy.co
Image: ION Energy | www.masdarcity.ae
The ees International Magazine is specialized on the future-oriented market of electrical energy storage systems, not only from a technological-, but also a financial and application-oriented point-of-view. In cooperation with ees Global, the ees International Magazine informs the energy industry about current progress and the latest market innovations.