Market Trends – February 2021
Europe has not traditionally played a very significant role as a site for battery cell production, but technical advances, favorable political conditions and an especially promising sales market are making the continent increasingly attractive for battery production. A look at the key role that battery cell production plays in upstream value chains – throughout the renewable energy supply sector and especially in the manufacture of electric vehicles – makes its significance clear.
Battery cells represent approximately 40 percent of the value added in the production of an electric vehicle. So it is no wonder that production capacities for lithium-ion batteries are growing faster in Europe than in any other region of the world. Current forecasts predict that the continent's share in this global manufacturing business will increase from around 6 percent now to 16 to 25 percent by 2030.
Numerous battery cell manufacturing plants are currently being built in Europe. According to Benchmark Mineral Intelligence, Europe is expected to host manufacturing facilities capable of producing more than 300 gigawatt hours (GWh) of battery capacity by 2029. The meta-study "Batteries for electric cars: Fact check and need for action," commissioned by VDMA and carried out by Fraunhofer Institute for Systems and Innovation Research ISI, even suggests that production capacities of 300 to 400 GWh could be achieved by 2025. The website Battery-News.de anticipates that the German market alone will account for more than 170 GWh of production capacity. By way of comparison, Europe currently has around 30 GWh of production capacity.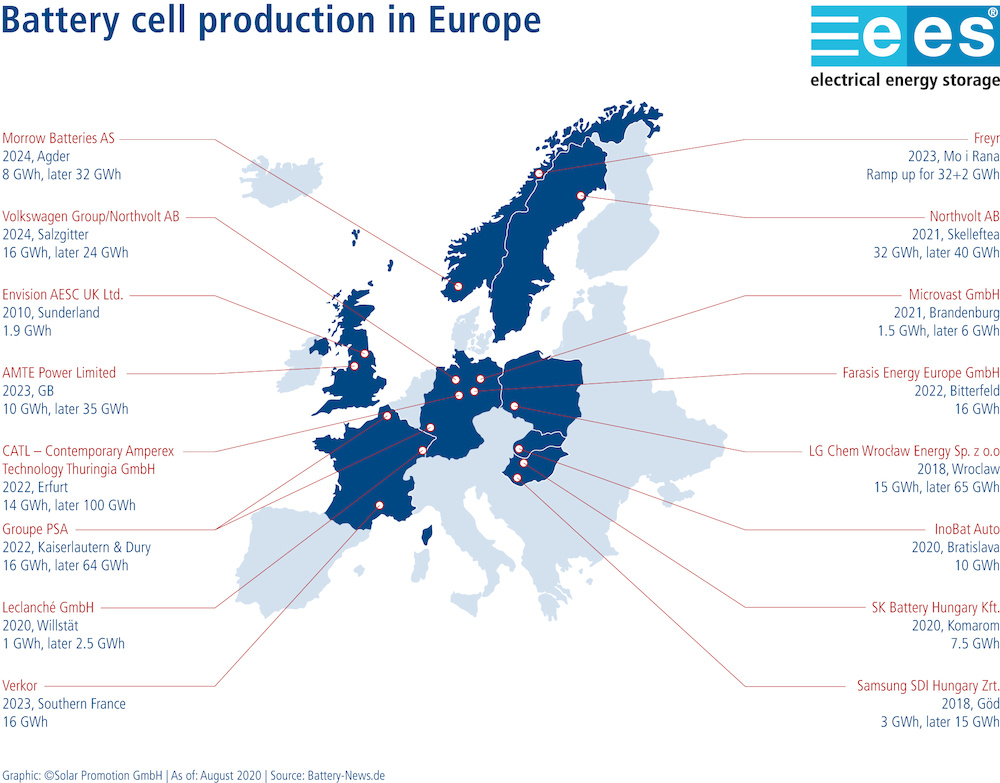 The meta-study commissioned by VDMA and carried out by Fraunhofer ISI concludes that for each GWh of battery capacity, 40 jobs will be created in battery cell manufacturing and another 200 in upstream sectors such as research and development or machine and plant construction. Assuming that Europe achieves at least 300 GWh of manufacturing capacity by 2029 as forecast, this would result in 12,000 direct and 60,000 upstream jobs.
Taking into account additional expected employment effects, Fraunhofer ISI anticipates that battery manufacturing could even lead to 155,000 jobs by 2033. For example, technicians will be needed for systems integration and for plant maintenance, and job growth will also be seen in connection with other storage systems such as fuel cells and electrolyzers. New downstream jobs are also currently on the rise with electricity storage system manufacturers such as Tesvolt. The manufacturer of stationary systems for industry and commerce recently began mass producing its storage systems.
ees Europe 2022, will take place from May 11–13, dedicates again special attention to this topic at the Exhibition Area Battery Production Technology.